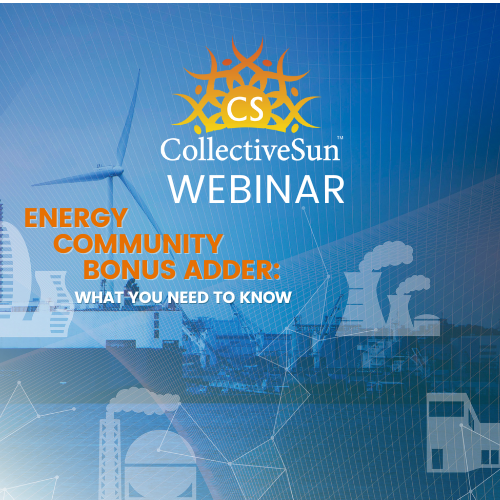 Energy Community Bonus Adder – What You Need to Know
---
This webinar originally aired on October 19th, 2023
The Inflation Reduction Act (IRA) introduced a new tax incentive called the Energy Community bonus adder.
For eligible projects, the 10% bonus adder is added to the base 30% Investment Tax Credit (ITC) creating a 40% ITC. The Energy Community bonus adder is meant to stimulate more solar adoption in areas of the country that have historically been connected with fossil fuel production. In this webinar, we will describe how eligibility is determined and the various methods to qualify.
In this 60-minute session, we review how Energy Community eligibility is determined, offer Insights into the strategic focus of this incentive — promoting solar adoption specifically in areas with historical ties to fossil fuel production, and share how eligible projects can achieve a whopping 40% Investment Tax Credit thanks to the 10% bonus adder.
Slide Deck: Energy Community Webinar
Q&A from the Webinar: Bonus Adder Webinar Q&A Report
IRA Energy Community Eligibility Map: IRA Energy Community Tax Credit Bonus (doe.gov)