INVEST IN SOLAR
PUT YOUR MONEY WHERE IT MATTERS
SOCIAL IMPACT
Lowering a nonprofit's energy costs means savings that generate a positive cash flow that's redeployed to support the nonprofit mission. Solar savings instantly translate into the programs and services our communities need.
ENVIRONMENTAL IMPACT
Invest in solar for nonprofits to reduce carbon dioxide by replacing fossil fuel consumption with clean renewable energy. Solar deployments directly support the fight against climate change.
ECONOMIC IMPACT
Solar can save a nonprofit millions in energy costs over the lifetime of the system and reduce their dependence on traditional fundraising. Instead of making a donation to pay a nonprofit's utility bill, why not help them eliminate the bill by investing in a solar project?
Invest in What You Value Most
The Power of Impact Investing in Renewable Energy
Climate change is one of our world's most immediate challenges and values-aligned investors are stepping up to address it. You can be part of the solution. At CollectiveSun, we help make solar installations affordable for nonprofits so they are financially and environmentally sustainable and better able to focus on their missions. We also work with investors like you interested in positively impacting our communities and the environment by creating greater access to solar for nonprofits.
When you invest in renewable energy you are making an investment that provides both financial and impact returns. You also generate quantifiable change in the communities in which we live and work. Stronger nonprofits enhance our social fabric and make our communities more resilient. Work with CollectiveSun to unleash the power of solar for good.
How does it work?
SunForAll Solar Fund is a unique solar financing program for nonprofits created by CollectiveSun with lead investor BQuest Foundation and other impact investors. The Fund makes going solar easy and affordable with an innovative investment structure consisting of a Program Related Investment (PRI) that includes a low-interest loan to fund 100% of the up-front costs of a nonprofit solar installation.
A model of values-aligned investing, SunForAll Solar Fund provides both a return of capital and a means for investing in renewable energy to address pressing social and environmental concerns. It also helps nonprofits redirect limited resources from operating expenses to direct mission support.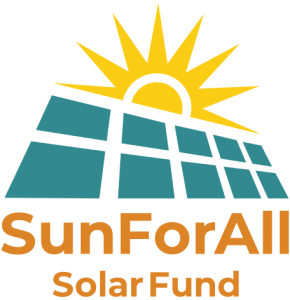 SunForAll Solar Fund
How does it work?
SunForAll Solar Fund enables your nonprofit to go solar with no up front costs.
LEARN MORE ABOUT SUNFORALL SOLAR FUND
Featured SunForAll Solar Fund Projects
Proof in the Numbers
With over ten years of experience working with nonprofit and tax exempt organizations across the country, CollectiveSun has a track record we are proud to share.
Learn More
0
Nonprofit Solar Projects
0
States with Solar Projects
0
KILOWATTS OF SOLAR PROJECTS
Get Updates and Stay Connected - Subscribe to Our Newsletter