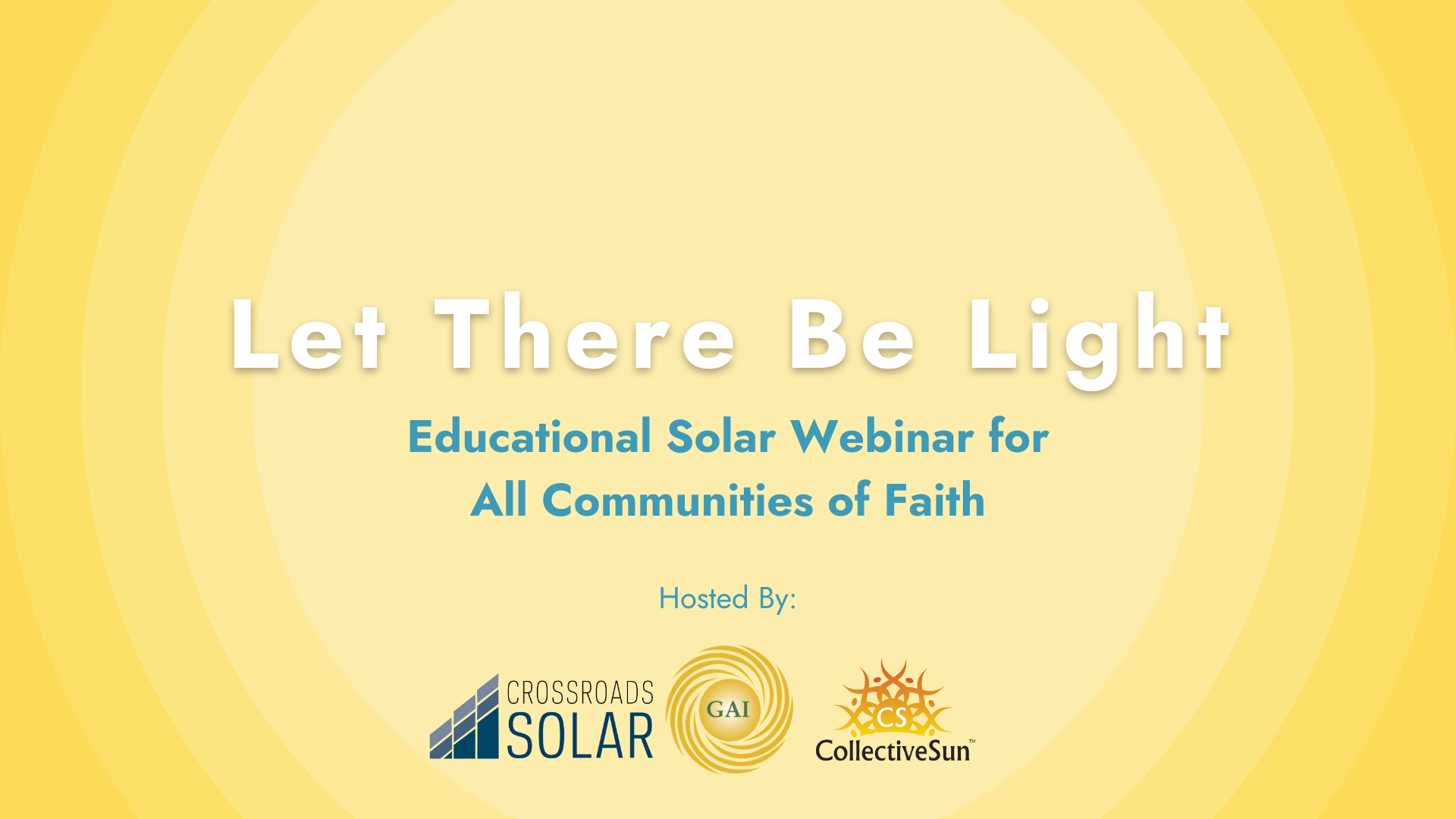 Webinar Recap: Let There Be Light – Solar Energy for Churches
---
This webinar originally aired on June 9th, 2022
This month CollectiveSun held a webinar focusing on the benefits of going solar for communities of faith. The presentation examined the solar journey of houses of worship by tapping the expertise of a solar module manufacturer, a solar installer, and two members of the CollectiveSun staff.
The webinar, Let There Be Light: An Educational Solar Webinar for All Communities of Faith,  featured Patrick Regan, President of module manufacturer Crossroads Solar in South Bend, Indiana, and Chris Rohaly, President of Flora, Indiana-based solar and energy storage installer Green Alternatives Inc. We also heard from Lee Barken, Chief Community Officer, and Nicole Withrow, Account Manager, from CollectiveSun.
After a short introduction from Lee, Patrick described Crossroads Solar's offerings and background and discussed the unique synergy between houses of faith and solar energy. He touched on advocating for youth education & involvement and how solar supports local organizations & communities.
"The planet's in peril and spiritual communities have the ability to lead in action. Teaching our congregants and our children about the importance of living those values is paramount to faith communities."
– Patrick Regan, Presiden of Crossroads Solar

Next, Chris discussed Green Alternatives and talked about the basics of how solar energy works and the process of going solar, from analysis and permitting to post-installation services. Lee and Nicole followed up with a description of our work with nonprofits going solar, including the benefits around cost reduction and savings and why it behooves congregations to pursue solar. They also talked about the benefits of the all-in-one experience of going solar with Crossroads, Green Alternatives, and CollectiveSun.
The webinar wrapped up with an extensive Q&A that touched on topics ranging from roofing and details about the CollectiveSun monetized tax credit to ground-mounted systems and more.
If you are a Nonprofit organization interested in learning more about solar or are looking to launch a solar project with a Nonprofit organization, please contact our VP of Sales, Matt Brennan who can answer any of your questions.
Matt can be reached at [email protected] or 619-838-7363.