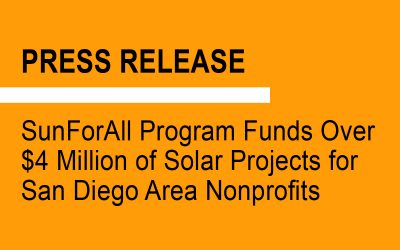 Press Release: SunForAll Program Funds Over $4 Million of Solar Projects for San Diego Area Nonprofits
---
SAN DIEGO, CA, (October 13, 2020) — Now in its second round, the SunForAll Solar Fund has awarded funding to five additional nonprofit organizations for a combined $4,132,640 of solar projects in San Diego.
SunForAll is a unique solar financing program for nonprofits created by CollectiveSun with lead
investor BQuest Foundation, and supported by other impact investors. SunForAll makes going
solar easy and affordable with an innovative financing structure consisting of a grant plus a
Program Related Investment (PRI) in the form of a low-interest loan. SunForAll covers 100% of
the up-front costs for solar installations on buildings owned by non-profits.
The five awardees in the second round of the fund are:
In addition to the grant, these organizations will receive a solar installation discount that in total results in a 30% reduction on the cost of the solar system installation. The low-interest loan finances the remaining 70% of installation costs. In the first SunForAll round totaling $1,561,754, awardees included Vista Community Clinic, a provider of health education and services, and Casa Familiar, a community development and social services organization. To date, SunForAll has funded $5,694,394 of solar projects for San Diego nonprofits.
The selection committee chose awardees based on an evaluation of the nonprofit mission and operations along with the technical merits and economic benefits of the solar project. Priority was given to nonprofits engaged in underserved or marginalized communities with a focus on social equity.
Kara Ballester, co-founder and president of BQuest Foundation, one of the fund's investors, said, "SunForAll creates greater financial stability for nonprofits while also making an impact on
climate sustainability. Each of these nonprofits will now be able to save on operating expenses
that can be redirected towards their mission of serving our communities. They will also be able
to help increase the use of renewable energy in San Diego and demonstrate its value, especially for the communities that stand to benefit the most from cleaner, more affordable
energy."
This funding round was launched in June 2020, in the middle of the pandemic. Lee Barken,
Chief Community Officer at CollectiveSun, said, "Solar installations can be performed with
COVID-friendly safety protocols, which supports local economic activity and creates local jobs.
We are delighted to partner with BQuest Foundation and other impact investors to advance
renewable energy and support nonprofits. The sun keeps shining even during troubling times."
About CollectiveSun
Founded in 2011, CollectiveSun is dedicated to helping nonprofits and tax-exempt organizations fund solar projects across the United States. Their proprietary funding models have enabled over 100 nonprofit organizations to utilize solar tax benefits that are normally unavailable to them due to their tax-exempt status. CollectiveSun reduces the cost of a nonprofit solar project by 12% and provides access to the least expensive funding options for the remaining 88%. Additionally, their deep expertise in solar engineering, solar finance solutions, and project management expedites and simplifies the process of going solar for their nonprofit partners.
Contact Information
Lee Barken
Email: [email protected]
Phone: 619-723-4583