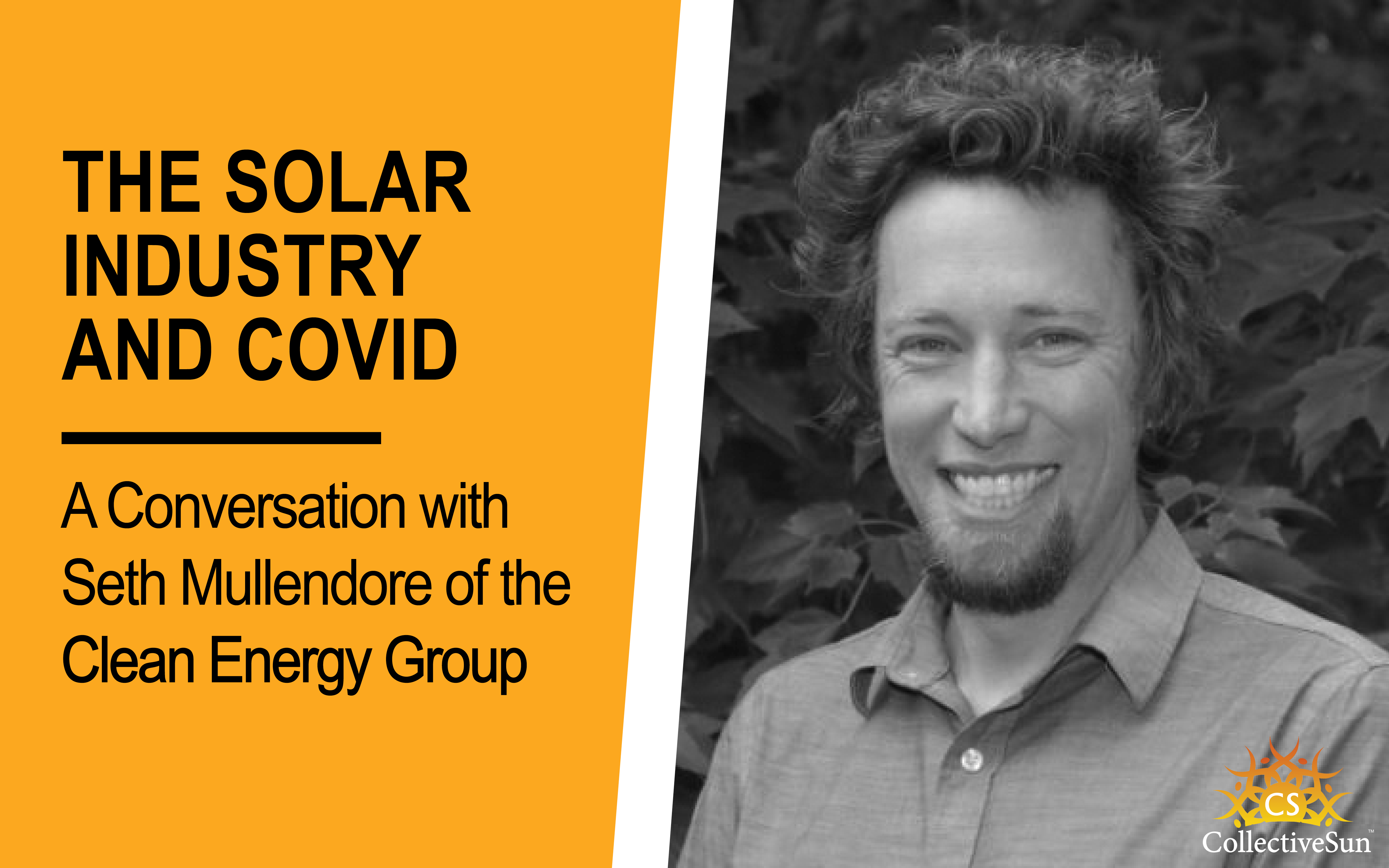 The Solar Industry & COVID: Seth Mullendore of the Clean Energy Group
---
Clean Energy Group has a deep commitment to environmental justice and helping make renewables accessible to all Americans. Based in Vermont, they are a national nonprofit advocacy organization focused on policy, technology and financing around clean energy and climate change. 
Their Vice President, Seth Mullendore, spoke with us about Clean Energy Group's partnerships and programs and described the work they've done to forward solar+storage around the country, particularly with regards to communities of color and other underserved communities. He shared insights about the solar and storage industries and current policy developments, both state and federal, in the wake of COVID.
WHERE DO YOU THINK SOLAR IS HEADED IN 2021 AND 2022 GIVEN THE IMPACT OF COVID?
As far as solar trends, our work is very specific to solar paired with battery storage and is specific to work in low income communities and other underserved communities. We've seen a real increase in interest about energy resilience over the past year and expect that to continue into 2022. People are spending a lot more time at home and within the communities where they live and less time in their work environments, so as a result there has been a significant uptick in interest in local solar+storage.
The fact that people are spending more time at home combined with the impact of climate change and extreme weather has meant that we've seen a really heightened awareness about the need to have energy resilience solutions within communities. This is particularly true within households that have electricity dependent needs, whether that's medical or economic vulnerabilities when food and other essentials are lost due to a lack of energy. The impact of climate change is a significant contributing factor, such as the heat-related impacts we're seeing in the wake of Hurricane Ida in the New Orleans area, or the cold, as we saw throughout Texas with the extreme weather they had earlier this year. And unfortunately in both instances there was a loss of life as a result of not having access to that power.
HOW ELSE HAS THE SOLAR INDUSTRY BEEN RESHAPED BY THE RECENT ECONOMIC CHANGES DUE TO THE PANDEMIC?
We are seeing broader trends with regards to market supply chain constraints, particularly in the energy storage sector. In energy storage markets we're starting to run into bottlenecks of trying to get batteries for projects that are moving forward. In the early stages of the pandemic there was a really deep decrease in projects moving to the next stage. We work a lot with organizations that provide assistance directly to communities and with municipalities. Understandably, they were focused on more immediate needs and priorities. But now we are starting to see a shift back to where these energy projects are moving forward more and more swiftly.

WHAT ARE SOME OF THE CHALLENGES FACED BY THE SOLAR MARKET FROM RECENT POLICY DEVELOPMENTS, AND WHAT ROLE IS THE CLEAN ENERGY GROUP PLAYING IN THOSE DEVELOPMENTS?
By and large the recent developments that we've seen have been on the positive side. We are seeing some policy challenges, such as in California where they are reevaluating their net energy metering laws and there's a real chance that a lot of the value of solar will be eroded. On the flip side, the changes could create an opportunity for energy storage where there is more value to the end user to store that energy and consume it on site versus exporting it to the grid where it may be credited at a lower value. But also in California they recently proposed new building codes that would require both solar and battery storage for new commercial buildings, which is a huge development that we hope we'll see implemented in other parts of the country.
At the federal level, there's been a lot of good news. This administration has been very pro solar. The Biden Administration is talking about providing 40% of energy needs with solar. And there's a lot of movement within the infrastructure package and the reconciliation legislation that would provide some real benefits to advancing both solar and energy storage in order to achieve the goals of the administration.
With regards to Clean Energy Group, a lot of our work on the policy side has been focused on New England lately. A couple of years ago we were very instrumental in getting a battery storage program in place there called ConnectedSolutions. It provides a multi-year contract for services for battery storage to be utilized by the utilities to lower systemwide demand. The program creates a more robust, long term revenue opportunity than demand charge management, which has been a driving factor for the economics of storage for many years. The program has really catalyzed the market for solar+storage and is a policy that has been replicated in multiple other New England states.
Most recently, it's set to go into place in Connecticut. It's notable that the Connecticut program includes some significant provisions for equity considerations. These include low income adders and a prioritization of carve outs to make sure that a good portion of those incentives and benefits flow to lower income communities to ensure that energy storage is more equitably distributed. Clean Energy Group is working a lot to promote the prioritization of equity and considerations for low income communities and environmental justice communities in the design and implementation of solar and battery storage policies at both the state and federal level.
ANY UNEXPECTED POSITIVE OR NEGATIVE POLICY CHANGES THAT WERE BROUGHT TO THE FOREFRONT DUE TO COVID?
It's really been a focus on resilience. We've been hearing from a lot of folks at the federal level that they're interested in creating programs to catalyze the development of clean energy microgrids within communities. Clean Energy Group has been in discussions with policymakers about this for community health clinics and multifamily housing facilities on a number of different levels. It really wasn't until COVID that we started seeing a lot of activity and legislative support for more microgrid development and the role of federal legislation in advancing clean energy microgrids.
"THE FACT THAT PEOPLE ARE SPENDING MORE TIME AT HOME COMBINED WITH THE IMPACT OF CLIMATE CHANGE AND EXTREME WEATHER HAS MEANT THAT WE'VE SEEN A REALLY HEIGHTENED AWARENESS ABOUT THE NEED TO HAVE ENERGY RESILIENCE SOLUTIONS WITHIN COMMUNITIES."
HOW DOES THE CLEAN ENERGY GROUP IMPACT ENVIRONMENTAL JUSTICE? WHAT ARE YOUR 2021 AND 2022 GOALS AROUND THIS ISSUE?
Environmental justice is really at the center of our work. We have a project called the Resilient Power Project that was created in the wake of Superstorm Sandy with a goal of increasing equity and justice in the distribution of solar and storage for providing increased energy resilience. Through that project we've worked with nonprofits all across the country that serve low income communities and communities of color to help them assess the benefits of solar storage for the communities that they serve. One component of our Resilient Power Project is a technical assistance grant program that pays for predevelopment feasibility assessments for solar and storage, mostly at community serving nonprofits. We've established a goal that 50% of those funds will go to organizations led by black, indigenous or people of color, and we're hitting that goal for 2021 and expect to continue that going into the future.
We have another project that is looking at the replacement of peaker power plants, which tend to be located in more urban areas and in lower income areas and communities of color. The project works with community advocates to accelerate the retirement of those inefficient and dirty power plants and replace them with battery storage and renewables, with an emphasis on the development of local resources throughout surrounding communities.
WHAT KINDS OF QUESTIONS ARE YOU SEEING FROM NONPROFITS?
A lot are asking, how do we do solar+storage? Again, there's been a huge growth in interest from nonprofit organizations, which is where the bulk of our work occurs. To address those questions we did a report earlier this year called Overcoming Barriers to Solar+Storage that looked at affordable housing and community serving nonprofit facilities and some of the main barriers that come up. Often the number one issue is a lack of information, mainly around energy storage about it's cost and what it can and can't do.
Related to that is a real need for greater technical assistance. Most nonprofits don't have the internal capacity to do assessments or really get to the heart of what solar+storage could do for their facilities. They need technical assistance and often don't have the resources to be able to engage experienced engineering support. Our technical assistance fund program is meant to fill that gap. Other major issues that come up are around financing. Traditionally, the nonprofit sector and small commercial facilities, such as community centers and multifamily affordable housing, have not been a priority for the solar and battery storage industries. Most of our work is focused on assisting these types of underserved markets.
HOW MANY NONPROFIT ORGANIZATIONS, ​​STATES, AND LOCAL GOVERNMENTS HAS THE CLEAN ENERGY GROUP WORKED WITH?
Through our technical assistance program we've worked with more that 250 facilities over the past several years and, individually, 100 nonprofit entities that range from small local community based organizations to large municipalities. We've also worked with some state energy offices both through Clean Energy Group and through our sister organization Clean Energy States Alliance. Clean Energy States Alliance is a membership organization of mostly state energy offices that are advancing clean energy.
We have some longtime partnerships as well with nonprofits such as the Urban Sustainability Directors Network. They have a Resilience Hub program where we function as the technical nonprofit on the energy side of things around solar+storage. We have a number of great nonprofit partnerships, such as a coalition of environmental and community-based organizations in New York CIty called the PEAK Coalition and a collaboration with an international humanitarian organization called Direct Relief. They were very active in Puerto Rico post Hurricane Maria. We were very involved in collaborating with them to advance the installation of resilient solar+storage in medical clinics across Puerto Rico. Now we're working with them in other areas as well to advance solar+storage in community health clinics.
WHAT'S THE BEST WAY FOR AN INSTALLER, A STATE, A LOCAL GOVERNMENT, OR A NONPROFIT TO CONNECT WITH CLEAN ENERGY GROUP?
It's pretty easy to connect with us. The simplest way to get our contact information is to go to our website, cleanegroup.org. All our contact information is there, and I welcome folks to reach out to me personally or to one of my colleagues. Soon we will be launching a way for folks to apply to the Technical Assistance Fund program via an online interface as well.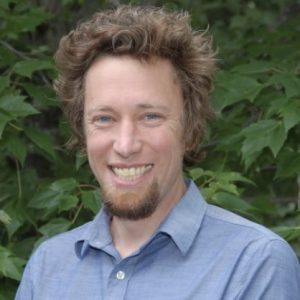 About Seth
Seth Mullendore is Vice President of Clean Energy Group, overseeing projects ranging from customer-sited solar and battery storage to the replacement of power plants with clean technologies. Seth works with policymakers, project developers, industry, advocates, and community and environmental justice groups to advance clean energy policies and projects, with a focus on achieving greater access to solar and battery storage technologies for underserved communities. Much of his work pertains to the research and reporting of energy storage technologies, policies, and supporting market structures.
Prior to joining Clean Energy Group, Seth served as a Sustainable Energy Fellow with Union of Concerned Scientists and worked with Maine Clean Communities to help advance clean transportation initiatives. Seth holds a M.S. in Civil & Environmental Engineering from Stanford University, and a B.S. in Geosciences from the University of Southern Maine.