Collectivesun's Partner Spotlight: Omnidian
---
In the rapidly evolving landscape of solar technology, certain firms have distinguished themselves as leaders, and Omnidian is undoubtedly one of them.
Recently, we had the opportunity to connect with a dynamic duo from this organization, which has rightly earned its place among the Top 10 Solar Tech Companies in the United States. Our conversation provided an understanding of Omnidian's unwavering commitment to their Performance Assurance Mission within the clean energy sector. Join us as we uncover the innovations and aspirations of a company shaping the future of sustainable energy.
WE WOULD LIKE TO BEGIN BY LEARNING ABOUT YOUR ORGANIZATIONAL STORY AND MISSION.
In 2016, three seasoned solar industry professionals embarked on a journey. Initially conceived as 'PeGu', an acronym for 'Performance Guarantee', the trio soon realized the need for a name that was more than just a label—it needed to encompass their core mission and purpose. From brainstorming sessions with names scribbled on whiteboards to finalizing their brand, focusing on teamwork remained the most important asset. This led to the birth of 'Omnidian'.
The term 'Omnidian' itself is an inventive amalgamation: 'Omni' from Latin, meaning 'all things', combined with a nod to the company's intended role in ensuring the seamless and rewarding adoption of clean energy solutions—akin to a 'custodian'.
Omnidian's Mission Statement:
To protect and accelerate investments in clean energy through innovative technology, passionate teams, and an amazing customer experience.
WHY IS OMNIDIAN FOCUSED ON CLEAN ENERGY?
Omnidian's Vision:
Your partner for a sustainable future.
We aspire to create a better, more sustainable future for our environment and our planet.  But our aspirations aren't just professional—they're personal.
We extend our promise to partner with three key constituencies for a sustainable future:
Our Clients: We are committed to make our clients more successful by protecting and accelerating their investments in clean energy, and by providing an amazing hassle-free ownership experience for their companies, their teams, and their customers.
Our Co-workers. Our culture is designed to enable members of our team to be their best, true self. To be heard. To be treated with dignity and respect. To grow in their careers. We desire to create a sustainable, more prosperous—and happier—future for every member of our team.

Our

Communities.

We are committed to helping communities be better places to live and work. Here are just some of the ways we give time and service to make a difference, today.  

Learn More
WHAT ARE YOUR SPECIFIC PROGRAMS AND SERVICES?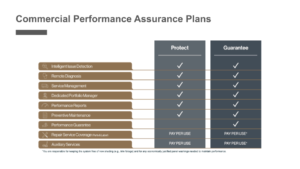 Omindian offers performance assurance plans for solar assets. Every plan includes asset monitoring and notifications, including performance reporting. 
Protect plans include preventative maintenance visits to diagnose any issues that may affect performance or safety of sites. Guarantee plans include a performance guarantee that guarantees energy output of the array and compensates for any shortfalls. 
Omnidian also offers auxiliary services such as module washing and vegetation maintenance that are needed to optimize performance of solar assets.
WHAT SHOULD PARTNERS WHO'VE NOT WORKED WITH OMNIDIAN KNOW ABOUT YOUR SERVICES AND THE BENEFIT TO THEM?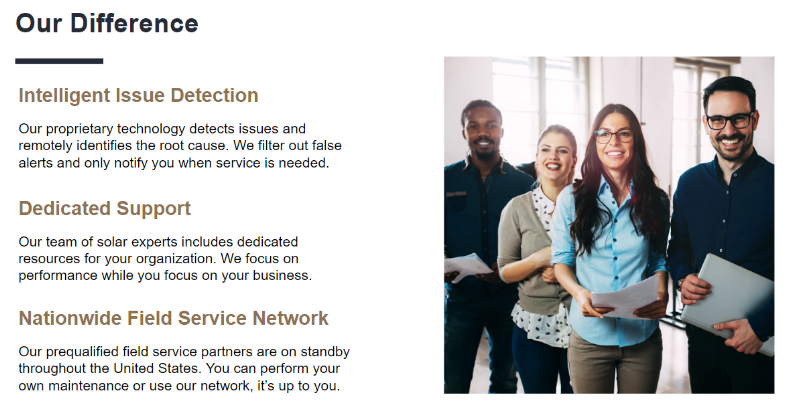 WHAT DOES OMNIDIAN WANT PEOPLE TO KNOW THAT THEY MAY NOT KNOW ABOUT YOU?
Omnidian's growth is fueled by our clients' growth. We aim to continuously improve our services through feedback with key partnerships. For example, we've recently begun building out service for commercial and residential batteries as a result of our clients bringing these assets into their portfolios. We love co-developing our approach alongside our clients so we can grow together.
WHAT BROUGHT EACH OF YOU TO OMNIDIAN?
Lisa: I was intrigued by Omnidian because O&M was the piece of the puzzle that I hadn't worked on yet. I'd done sales, design, EPC and financing – but I wasn't involved in the full life of the asset. When I came here, it came full circle for me. I got to be a steward for some of the same assets I was involved in building ten years prior. It's cool to see those same assets still performing, being able to fix some of the things that we didn't do well "back then" in the industry and continue to make going solar a positive experience for those early adopters.
Maika: I like to say that I came to Omnidian for the mission but stayed for the people. There is a status quo in that industry that Omnidian is working to remedy where after the system is activated, we give the system owner a manual and say, "good luck". At Omnidian we pride ourselves in providing solar peace of mind during the post-installation experience. We turn that "good luck" into "we'll take care of you" with our solar performance assurance services, our technology, and our people. I have the pleasure of working with the most wonderful, talented, compassionate, truly phenomenal people here at Omnidian. Our values are crystal clear on our website, and we foster an environment where every Omnidianite can live our values in their full authenticity.
HOW WOULD SOMEONE GET IN TOUCH WITH OMNIDIAN TO LEARN MORE ABOUT YOUR SERVICES?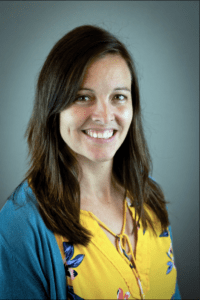 LISA YOPS
CLIENT SUCCESS DIRECTOR
Lisa Yops has been in the solar industry since 2008, with experience in residential, commercial and utility markets. She has also worked with energy efficiency and utility demand response programs, plus commercial energy storage products. At Omnidian, she leads the Commercial Client Success Team, which builds client relationships and develops a deep understanding of clients' value calculations for their clean energy investments, and maximizes Omnidian's contributions in those equations.
MAIKA BUI
SENIOR CLIENT SUCCESS MANAGER
Maika Bui is a passionate sustainability advocate that has a lofty goal to shift the world's dependency from nonrenewable resources to renewable resources. In previous roles, she contributed to this goal with experience in the transportation, biorefinery, and solid waste industries, respectively. Maika continues to achieve her goal at Omnidian, a software-based service company that provides solar performance assurance to clients. She is committed to fostering meaningful partnerships and ensuring that Omnidian's offerings and their O&M needs align; ultimately elevating the solar experience and satisfaction for all customers.