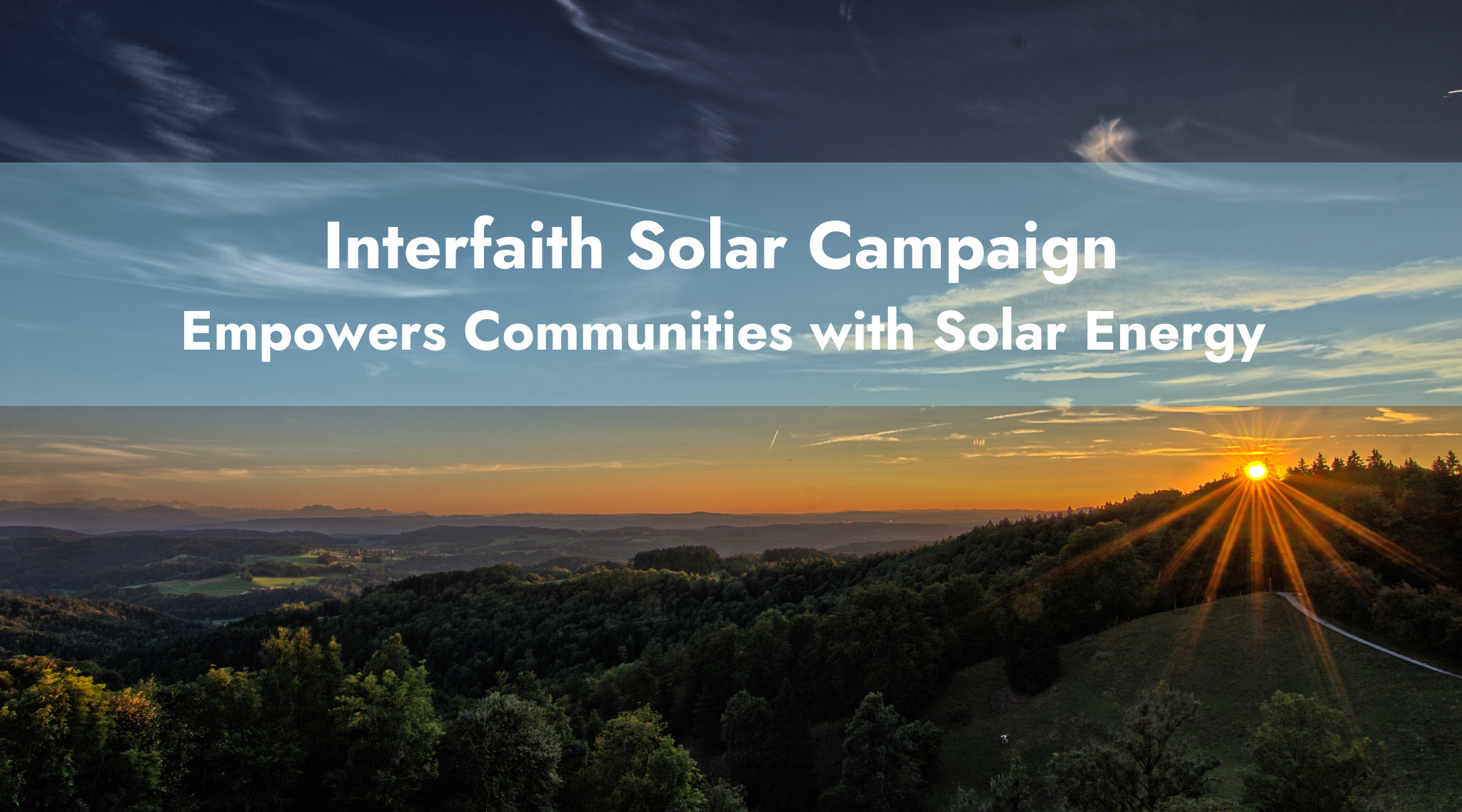 Lighting the Path to a Sustainable Future
---
Interfaith Solar Campaign Empowers Communities with Solar Energy: Lighting the Path to a Sustainable Future
In a time where the need for resource-efficient solutions is paramount, our friends at the Interfaith Solar Campaign are leading the charge, harnessing the power of the sun and communities of faith to make a meaningful impact. Through their innovative solar initiative, they are not only spreading environmental awareness but also creating a brighter and more reliable future for communities all across Oregon and hopefully beyond. Let's take a deeper look at the inspiring work of this organization and explore how they are lighting the path toward a cleaner, greener world.
Championing Solar Energy Adoption:
The Interfaith Solar Campaign recognizes the crucial role solar energy plays in reducing carbon emissions and combating climate change. With this core principle in mind, they have taken on the mission of promoting solar energy adoption within faith-based organizations and their surrounding communities.
One example is the leadership of David Cox, a United Methodist church member and environmental activist in Salem, Oregon, who regularly gathered with other like-minded church members to make sense of the lack of government and business efforts to address the climate crisis. Their discussions eventually led to looking in the mirror. They asked themselves, "What are we doing?", and then took tangible action, coordinating five congregations to go solar together.
By collaborating with local congregations, the Interfaith Solar Campaign has successfully facilitated the installation of solar panels on numerous houses of worship, enabling these institutions to generate clean and renewable energy.
Empowering Communities of Faith:
Beyond the important environmental benefits, adoption of solar energy by faith-based organizations has broader implications for community empowerment. By embracing solar power, these institutions are taking control of their energy needs, reducing their reliance on traditional energy sources, and channeling the savings towards their core missions and community programs. The utility bill cost savings obtained through solar installations allow congregations to allocate more resources toward charitable initiatives, education, and support for vulnerable community members.
Building Partnerships:
One of the key strengths of The Interfaith Solar Campaign is its ability to build partnerships. By forging alliances with solar industry professionals, local governments, community organizations, and faith-based funding networks, they leverage collective expertise and resources to overcome challenges and accelerate the adoption of solar energy. These partnerships not only facilitate the installation of solar panels but also contribute to the development of innovative financing models, making solar energy accessible to a wider range of organizations and community members. CollectiveSun connected with their mission immediately, as our values are completely aligned with their goal that every house of worship can utilize the power of the sun, and that CollectiveSun could help relieve the burdens and complexities involved with financing and managing a solar construction project.
Creating a Sustainable Legacy:
Through their relentless efforts, the Interfaith Solar Campaign is creating a long lasting legacy for future generations helping to inspire climate action in the congregations that adopt solar as their electricity source. By promoting solar energy adoption, they are not only reducing greenhouse gas emissions but also instilling a sense of environmental responsibility within faith communities. The impact of their work extends far beyond the immediate benefits of clean energy generation by fostering a long-term commitment to renewable practices and inspiring others in their congregations and surrounding communities to follow suit.
Interfaith Solar Campaign's dedication to harnessing the power of the sun is paving the way for a more responsible future. By spreading awareness, building partnerships, and fostering community engagement, the Interfaith Solar Campaign is transforming the way we think about energy, inspiring us all to make a positive impact on our environment. Their efforts serve as a guiding light, illuminating the path toward a greener, brighter, and more sustainable future. If you'd like to learn more and support the mission: How to Get Started – Interfaith Solar Campaign
At CollectiveSun, we understand the complexities of solar financing and construction management. We partner with organizations like the Interfaith Solar Campaign and provide a leasing structure aligned with the needs of religious organizations all across the United States and specifically designed to work under the Inflation Reduction Act (IRA). With the changes from the 2022 IRA bill, there are numerous opportunities to make solar not only affordable for your community, but a reality for your House of Worship and our mission to regenerate and repair our holy Planet, standing with the most vulnerable neighborhoods of our human family.