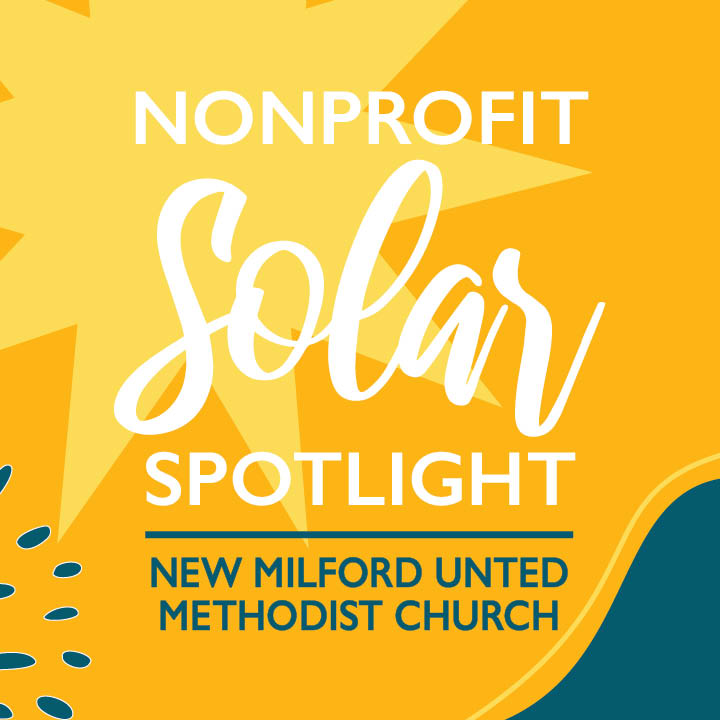 Nonprofit Solar Spotlight: Meet New Milford United Methodist Church
---
Story by Sara Carbone, CollectiveSun Content Marketing Manager
At CollectiveSun we are extremely proud to support Nonprofits and the incredible work that they do for their communities. This focus on Nonprofit impact is why our mission is to help organizations operate in a financially sustainable way – something a solar system can help make a reality! We are very proud to have partnered with over 140 nonprofits across 19 states to achieve their renewable energy goals in the past four years.
CollectiveSun's monthly series, Nonprofit Solar Spotlight, tells the stories of nonprofits that have made the leap to solar in order to champion clean energy and achieve financial sustainability. These are examples of organizations that have taken on a leadership role in their communities around fighting climate change and lowering operating expenses.
Our first two stories highlighted Massachusetts based Congregation Shaarei Tefillah and Our Savior's Lutheran Church in California. This third story focuses on New Milford United Methodist Church in New Milford, Connecticut. They partnered with CollectiveSun to go solar this year.
We spoke with New Milford's Chair of Trustees, Mike Hopp. Mike talked about the church's involvement in their community and the impact of their decision to go solar.
Can you tell us about New Milford United Methodist Church's history and focus?
I've been a member of the church for about 20 years, and I am the Chair of Trustees. The church has been around since the 1950s and has a good handful of second and third generation members. There are about 100 congregants every mass on Sunday, maybe less now with COVID. It's got a good history and a solid background. 
The church is an open minded, easy-going kind of church, very non-judgmental. Their opening statement before every service is that they do not discriminate based on color, race, creed, sexual preference, or gender. 
How is the church connected to the greater New Milford community?
A big thing that got me interested in the church is that they're always throwing their hat in the ring around what they can do to help the community. We don't do it just to get our name out there but to see what we can do to help others. We do volunteer work. Every Thursday we have the Our Daily Bread Food Pantry where our church has food donated from the Connecticut Food Bank and they hand out anywhere from 150 to 200 meals to needy families. They get on a line and get a bag of groceries. It's a good feeling. There is definitely a positive attitude here that puts you in the right frame of mind.
What sparked the church's interest in renewable energy and sustainability?
Obviously it's a nonprofit organization and you really only live on your donations, so you have to keep an eye on your spending. Years ago they decided to go a bit green and look for ways to save energy and cut back on the cost of utility bills. That's when solar first came up. It wasn't pursued then, but about three years ago the pastor brought it up again. I was on the Board of Trustees so we started looking at it. 
They wanted to go green to save green. Our electric bill had started getting really, really large. We put lights and thermostats on timers, switched some of the older fluorescent fixtures out to LED, tried to rework some of the doors that might be leaking, and got pricing on updating the heating and cooling system. Then it was, "What if we went solar?" The Board looked at some estimates and figured out what the cost would be and what the impact would be on our electric and heating. On paper it definitely looked like a very good step in the right direction.
"Once it is up and running it is going to be great for the next generation, the footprint on the earth, the town, everything."
How do you see your decision to go solar impacting your organization and community? 
When it comes to major spending and major remodeling we want to involve everyone at the church so the Board invited everyone to come to church council when solar was brought up. There were about 100 people at the meeting, and it went through unanimously. Right away everyone wanted to get started with some estimates. We narrowed it down from five companies to one.
The selected company was invited to come and give a presentation at a church council meeting. The representative came in with pamphlets and flip charts and was very professional and informative. He wasn't talking over people's heads. He was here for a good hour and a half fielding any question any member had. So by the time he left everyone was 90% educated on what solar was and how it was going to impact our church and our community. And as the panels went up people were very pleased to see the progress.
Once it is up and running it is going to be great for the next generation, the footprint on the earth, the town, everything. Our church is right out on a main road so you can see the professionally done panels. It looks great. The other plus was that we ended up installing a new HVAC system. Not only are we energy efficient with the heating end of it, we now have air conditioning in our sanctuary! So far it's been a win win. The final piece of the puzzle is when the system is up and running and when people see the actual amount that we're saving on our electric bill. They're going to love it.
Looking forward, how will solar play a role in helping to achieve certain goals at the church?
Obviously there's always maintenance that needs to be done to the building. If we're not writing that bigger check to the electric company, that money that is being saved can be put towards fixing the windows or putting in that new sidewalk or building that handicap ramp. There's always projects that are being done around the church, some of them are luxuries, some are necessities. Being able to have extra money in the budget and not having to write it for an electric bill gives us a lot more flexibility to keep the building running and making it better.
About New Milford United Methodist Church
New Milford United Methodist Church is an open and affirming United Methodist Church and a place for all people. We greet one another as beloved children of God.
New Milford United Methodist Church's Member Statement:
We, the people of the New Milford United Methodist Church, strive to be a light in the world. We invite people from all walks of life to join in seeking a deeper and more committed relationship with God through Jesus Christ. We realize this relationship by discovering our God-given gifts through disciplined worship, study, stewardship, fellowship, and mission. We make manifest God's love by sharing our gifts and faith in service to others, growing as disciples of Christ.
About Mike Hopp
Mike has been living in New Milford since 1990 with his wife of 34 years and 2 children. He has been a self-employed business owner of a small construction company since 1985.  He has been a member of the United Methodist Church for 20 years. He enjoys meeting new people, taking vacations and camping with his family, and working with his hands.
In his free time, he can be found in his workshop building something. He is active in his community doing volunteer work like putting up the Christmas trees on the green, helping around Harrybrook Park, or things within the church. He is an active softball player in the men's league in New Milford.