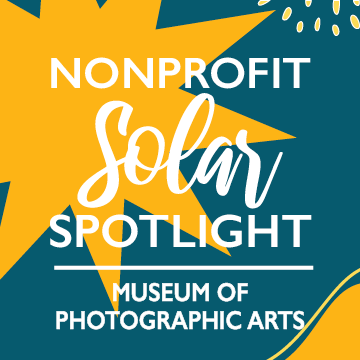 Nonprofit Solar Spotlight: Museum Of Photographic Arts
---
Story by Sara Carbone, CollectiveSun Content Marketing Manager
At CollectiveSun we love nonprofits and the incredible work they do for their communities! It's why we've made it our goal to help as many nonprofit organizations as possible tap into the power of solar. We believe that operating in a financially sustainable way is particularly vital for nonprofits. When these organizations lower their operating expenses, more dollars go directly towards the mission and the communities they serve will ultimately see those benefits.
Our monthly series, Nonprofit Solar Spotlight, focuses on telling the stories of nonprofits who have championed clean energy and environmental sustainability by going solar. They are organizations that have inspired their communities and transformed their operations by securing a significant level of financial sustainability through solar technology. 
Since the beginning of the year we have highlighted the stories of three nonprofits that partnered with CollectiveSun to go solar: Massachusetts based Congregation Shaarei Tefillah, California based Our Savior's Lutheran Church and New Milford United Methodist Church in Connecticut. The fourth organization we are proud to feature is the Museum of Photographic Arts (MOPA) in San Diego, California. The museum is one of five nonprofits housed in Casa de Balboa, a city owned building located in Balboa Park.
We interviewed MOPA's Deputy Director, Vivienne Esrig, who described the impact of the solar system on the museum and their community and shared what it was like to work with CollectiveSun. She previously spoke about MOPA's experience going solar with CollectiveSun soon after the system was completed. We only had the system up for a year before COVID happened so with everything closed it was not nearly as dramatic as it could have been. But I anticipate that in the years to come having that ongoing savings will be really critical for the sustainability of the museum's operating budget.
Please tell us about MOPA.
MOPA is a center for visual learning. Our goal is to be an educational center teaching visual literacy and critical thinking. We use the art of photography and film to teach people how to look at themselves and the world through a critical eye. All of this includes a priority of community engagement and social justice.
What sparked MOPA's interest in renewable energy and sustainability?
Part of our focus includes being aware and active about environmental issues. The solar panel project was just one of many things that we've tackled over the last few years. These have been recycling, including electronics and going to digital communication as much as possible by eliminating paper invitations and paper agendas. We've tried to eliminate as many paper and plastic utensils, cups and plates as we can. All of it is meant to fit into the bigger picture about being a sustainable organization and reducing our carbon footprint.
We're one of five organizations in our city building. We are housed with the San Diego History Center, the Model Railroad Museum, the Balboa Arts Conservation Center and the Committee of 100. Our building was actually certified as one of the first buildings in Balboa Park to be LEED certified silver and we just bumped up to gold. Going solar was just another step in completing the big picture.
How is MOPA connected to the greater San Diego community?
We pride ourselves on community building and community relationships. We are the home for many film festivals in the area, including the annual Human Rights Watch film festival for the last 11 years. We've showcased many environmentally related films. We've also established partnerships with a couple of the local organizations that focus on climate change and sustainability.
"CollectiveSun has a truly unique product, a truly unique offering. I don't know of any other company that is doing all the heavy lifting and giving back."
How did you hear about CollectiveSun?
When we first started exploring the idea of installing solar to the building, CollectiveSun was brought to us by an electrician that we had worked with for over 10 years. He had a prior relationship with Lee and Matt at CollectiveSun.
How was your experience working with CollectiveSun?
Beyond fabulous. I'm happy to get on a soapbox, at any opportunity, to explain how great it is to have a for-profit company that's focused on nonprofits and makes what has the potential to be a really daunting challenge around tax credits and implementation easy. They just basically do it all for you. It was amazing.
Would you recommend CollectiveSun to other organizations looking to go solar?
I recommend them every chance I get. I've already introduced them to a couple of other museums in Balboa Park, and I'm helping CollectiveSun as much as I can. They have a truly unique product, a truly unique offering. I don't know of any other company that is doing all the heavy lifting and giving back.
What aspect of solar energy are you most excited about?
It's rewarding to have some monthly savings. We only had the system up for a year before COVID happened so with everything closed it was not nearly as dramatic as it could have been. But I anticipate that in the years to come having that ongoing savings will be really critical for the sustainability of the museum's operating budget. We predicted the savings to be somewhere between 22%, and that's about what it's been holding at.
How do you see solar energy impacting the community you serve?
Though things have been largely about COVID this past year, solar continues to be in our toolkit of talking points as one of the things we are very proud of and will continue to tout. Depending on the funders we talk to about particular projects, the fact that we have solar is incredibly useful information. I'd also like to think that visitors that come either in person or online take note.
What are some of the things you've learned along the way?
Exploring solar is still worth discussing, even if you don't own the actual building your organization is in. We are in a city building and went through the process of trying to get permission, and we were successful. I don't promise it, but I think that for those nonprofits that don't own their own building and automatically think that they can't take advantage of it, I would say, talk it out and maybe see if there's a way to work with that. This is definitely something CollectiveSun can help with.
Looking forward, what are your goals for MOPA and how will solar play a role in achieving those goals?
One of my goals is to get at least one other organization in Balboa Park to use CollectiveSun. It's definitely a goal of mine as I wear my MOPA hat to continue to be a strong advocate and resource for any organization in San Diego that wants to explore solar, whether it's an arts organization or otherwise.
About MOPA
The mission of the Museum of Photographic Arts in San Diego is to inspire, educate and engage the broadest possible audience through the presentation, collection, and preservation of photography, film and video.
MOPA is one of only three museums in the nation dedicated solely to lens-based medium. Located in historic Balboa Park in the heart of San Diego, we offer an annual calendar of relevant, thought-provoking and engaging exhibitions, film festivals and lifespan-learning opportunities.
MOPA's Values
Audience and Communities-Minded
We seek like-minded collaborative partners with mutual added value.
We work to anticipate the needs of our audience.
We are mindful, respectful and welcoming of all constituents.
Forward Thinking
We embrace change.
We are eager to excel in the changing museum landscape.
We strive to lead in the cultural arts environment.
Sustainable
We create meaningful experiences to generate ongoing financial longevity.
We are conscientious of our real and virtual environment and resources.
We maintain a professional environment that encourages a loyal workforce.
About Vivienne Esrig
Vivienne is currently the Deputy Director of the Museum of Photographic Arts in Balboa Park. She comes with a lifetime of experience in activism, management and passion to help others.  She is the Treasurer for Alliance San Diego, the Treasurer of MOXIE Theater Company, a board member of CARAS, and has served on numerous boards both nationally and regionally including the National Organization for Women (Boston) and the National Coalition for Sexual Freedom.
She has a BA in Finance, an MBA in nonprofit management and the heart of a Bostonian. Vivienne has been a card carrying feminist since birth and swore an allegiance to the nonprofit sector at the age of 15, before she was too old to know better.