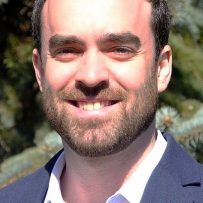 The Solar Industry During COVID: A Conversation with Tim Olson
---
Story by Sara Carbone, CollectiveSun Content Marketing Manager
CollectiveSun partner, Greenworks Lending is a private capital provider offering funding to commercial property owners looking to tap the power of renewable energy and energy efficiency projects. They are the leading provider of Commercial Property Assessed Clean Energy (C-PACE) financing in the US. 
Greenworks and CollectiveSun have collaborated to offer CollectivePACE, a unique funding opportunity that allows nonprofits and tax exempt organizations to fund solar projects through C-PACE and by taking advantage of tax credits normally unavailable to them.
We recently spoke with Tim Olson, Associate Director of Solar and Storage at Greenworks, regarding their business and how it has been affected by COVID. Tim shared how Greenworks has been able to make adjustments to continue to meet the financial needs of businesses looking to pursue energy projects during the pandemic. He also described recent developments for commercial property owners and the renewables industry in general.
Given the impact of COVID, where do you think solar and renewables are headed in 2021? 
A lot got put on hold in 2020 for everybody. I think a lot of businesses were busy just trying to figure out what's happening, what's coming next, can I still operate my business and how do I do it safely? A lot of capital improvements and projects like solar and storage, no matter how attractive, had to sit on the back burner for a while as people figured out how to keep their lives going in this new reality. Even if COVID isn't gone yet, a lot of people have now wrapped their heads around the situation and are focused on how to lower their operating expenses and improve their bottom line in 2021 through solar and storage.  
How has the solar and storage industry, nationally and locally, been reshaped by the recent economic changes brought by the pandemic?
More than ever people are looking for ways to conserve capital. While solar projects and storage can save property owners tremendous amounts of money over their lifetime, they do represent significant upfront capital investments. Luckily, with financing options like C-PACE, property owners can now finance 100% of that project cost over a long period of time resulting in $0 out of pocket and cash flow positive results from year one. This ability to lower operating expenses without paying out of pocket is extremely attractive to business owners who have suffered hardships this last year and have seen the importance of smart financing to conserve capital. Additionally, C-PACE can be used retroactively, so a property owner who paid cash or took out a short-term loan to pay for a solar system prior to COVID can use C-PACE to recapitalize that project and free up that cash to cover near term shortfalls. 
What adjustments has Greenworks Lending made in areas like operations, sales and marketing, etc. to be able continue work in the face of difficulties brought by the pandemic?
Luckily Greenworks Lending's business was one that could quickly be adjusted to be entirely remote. We pivoted a lot of our messaging towards recapitalization projects to free up operating capital for businesses that were heavily impacted by COVID and had recently put cash into energy projects. Much like everyone else, relationship development with our partners and internal staff had to switch from in person meetings and industry events to much more frequent online video conferencing and phone calls. We are all certainly looking forward to going back to in person meetings and traveling, but I am appreciative that our company was able to be so flexible and pivot so quickly to meet the changing environment.
"I think a lot of the goals have remained the same: save money on constantly escalating electricity costs."
Any particularly effective strategies or tech adopted by Greenworks during this time?
Greenworks already had offices and employees throughout the country so we already had a lot of software solutions for remote work in place. All our partners use different platforms for video conference and file sharing so, more than anything, we've had to be flexible in learning different tech or conferencing strategies. 
What do you feel are the top concerns and short term goals for commercial property owners as well as solar contractors and the related industries?
I think a lot of the goals have remained the same: save money on constantly escalating electricity costs. Hopefully more people are also becoming increasingly aware and conscious of their carbon footprint. I think what has changed is that before more businesses could come out of pocket and wait for a 6-7 year payback period on their investment. Now with C-PACE that can be $0 out of pocket and see immediate savings. 
What is the status of the barriers, regulatory and otherwise, faced by the property owners you work with that are seeking to finance construction or solar systems, particularly given recent events?
We have seen a widespread withdrawal from traditional capital providers in the market, but especially for properties and markets more heavily impacted by COVID. There are some federal regulatory agencies that still have made accessing C-PACE financing more difficult, but we are hoping that with this new administration's ambitious climate agenda steps will be taken to break down those barriers. On the other side though, Congress extended the 26% solar tax credit, which was set to ramp down this year, for 2 more years. Congress recognized that this tax credit helps promote investment in our communities and creates local jobs, at a time when our economy desperately needs it.
" C-PACE is a new concept for most nonprofit customers, so we are largely walking them through how it works almost every time. When they are able to see that this is truly a $0 out of pocket way to lower their operating expenses we then often have to answer the question – is this real? The answer is yes, it is very real! "
What areas of the country are the most active and successful for solar projects and commercial property lending? Is Greenworks moving into new markets?
Greenworks is working constantly to make C-PACE available in new states and jurisdictions. Last year Greenworks financed the first C-PACE solar projects in Pennsylvania and New York. Not surprisingly, we see the most success for solar projects in states that have high electricity rates and state incentives for solar deployment. These state programs include strong net-metering rules, SRECs, community solar, rebates, and more. But solar can really be a lucrative investment in any state we operate in.  
As your business and others across all sectors of the industry navigate the changes presented by COVID, what role do you see the new president's administration playing in the national solar market and for renewables in general?
President Biden has laid out aggressive targets for combating climate change, and one of these is increased deployment of solar and storage on homes and businesses. The President also plays a significant role in the country's response to the COVID crisis and reopening the economy, which of course also impacts businesses' abilities to install solar. We are very bullish on the future of solar and storage in these coming years. 
Since nonprofits are tax-exempt, how does a PACE loan work for them? 
C-PACE financing is paid back through a property tax bill. While some nonprofits may not be receiving a property tax bill currently, they still have a property tax-ID and can receive a property tax bill to pay tax assessments, such as the debt service on a C-PACE loan. Greenworks in conjunction with tax equity partners like CollectiveSun have financed dozens of solar projects for non-profit customers across the country. 
What kinds of questions are you seeing from nonprofits?
C-PACE is a new concept for most nonprofit customers, so we are largely walking them through how it works almost every time. Additionally, we are explaining how CollectivePACE, through a tax equity discount provided by CollectiveSun, can help them access a portion of the solar tax incentives that they otherwise could not take advantage of. When they are able to see that this is truly a $0 out of pocket way to lower their operating expenses we then often have to answer the question – is this real? The answer is yes, it is very real!
About Tim
Tim Olson is the Associate Director of Solar & Storage for Greenworks Lending. Tim has spent the last five years finding ways to use creative financing solutions like PACE to drive more solar installations in the C&I space. Prior to Greenworks Tim was the Director of CivicPACE, a U.S. Department of Energy program focused on using PACE to finance solar for non-profits.