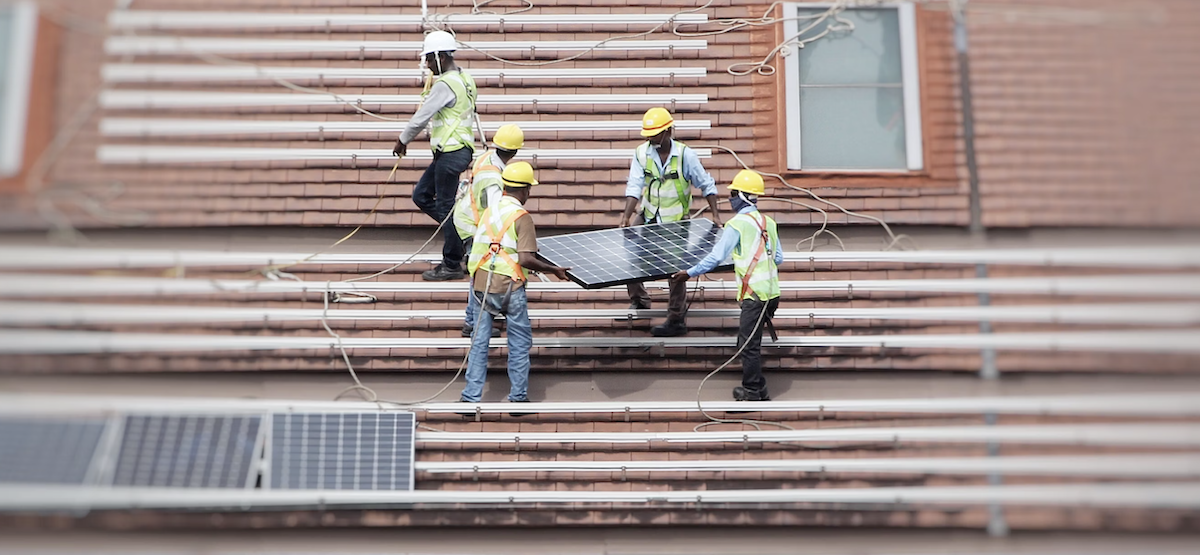 What You Need to Know About Preliminary Notices for Solar Projects
---
By Rosana Francescato, Lead Writer and Analyst, CollectiveSun | April 2
Nonprofits across the U.S. are going solar more than ever — with good reason. Solar lowers your organization's electricity bills, allowing you to focus resources on your mission. It also lowers your carbon footprint and can enhance your organization's resilience.
But going solar isn't always simple for nonprofits. Fortunately, CollectiveSun is here to guide you through the process.
To have the best experience going solar, it's important that you know what to expect. That includes a common part of the process that most people aren't aware of: the preliminary notice. You may or may not receive one of these notices — but if you do, you need to know a few things about it.
What's a preliminary notice?
If your nonprofit has received a preliminary notice after signing up for solar, don't panic! 
A preliminary notice is a standard part of construction projects in many states. Some property owners are alarmed when they receive one, because the word "lien" appears in the notice. 
However, the notice is not a lien. It's simply a document from a subcontractor or supplier to inform the property owner of their work on a construction project. The reason it mentions a lien is that the notice establishes the rights of subcontractors and suppliers to file a lien on the property if they're not paid for their work on the project by the contractor. A prime contractor won't usually send a preliminary notice, because their right to file a lien is covered in their contract for the project and they are already known to the property owner, making a preliminary notice unnecessary.
While the preliminary notice protects the rights of these parties to file a lien, that's not its only purpose. The main purpose is to establish a line of communication and share information among all parties, which promotes good working relationships and facilitates a successful project. 
Property owners and lenders get information on who will be working on the project and providing materials for it, which translates to who is owed money. As a property owner, that protects you from any surprises — including a surprise lien from a subcontractor you didn't know about who didn't get paid. It also helps you prevent any payment issues from becoming larger problems. 
Each state has specific requirements and regulations for preliminary notices. If you have questions about preliminary notices in your state, don't hesitate to reach out to your county or state license board.
What to do when you receive a preliminary notice
If you get a preliminary notice, and you're working with CollectiveSun, the first thing you should do is send a copy to [email protected]. It's important that we have the document for our records. We'll review the notice and confirm that everything is in order.
The information in the preliminary notice will help us ensure that everyone gets paid and prevents issues that might arise later in the process. 
First, we'll compare the preliminary notice to the schedule of payments in the contract. Then, when each milestone payment is due, we'll review the installer's invoice and work performed on the project against the milestone provisions contained in the contract. 
When we issue checks for a milestone payment, there are some scenarios where payment is made to both the contractor and the subcontractor (or supplier), and we'll have both of them endorse the check. This is called a joint check. Joint checks protect against a situation in which a contractor gets paid but doesn't pay their subcontractor or supplier. With these joint checks, we can be sure that both parties are paid, thereby avoiding any issues. We will also secure appropriate lien waiver and releases for the corresponding payment. A lien waiver and release is a document signed in exchange for payment that waives the signer's right to file a lien for the amount specified in the waiver.
If you're paying for the project directly, you can follow the same steps; be sure to keep copies of all canceled checks as receipts.
Preliminary notice requirements for contractors
Since preliminary notice requirements vary from state to state, subcontractors and suppliers should familiarize themselves with specific local requirements.
Timing is a key requirement. Some states require that a preliminary notice be sent within 20 days from when labor begins; others have different timing requirements. Failing to meet these requirements means forfeiting the right to file a lien if you're not paid for your labor or materials.
If your project is being financed by a loan, there may be a requirement for the prime contractor to provide a preliminary notice to the lender.
Whatever the requirements are in your state, you're likely to get paid faster if you provide a preliminary notice than if you don't. 
Don't fear the preliminary notice
A preliminary notice is a key tool in ensuring projects go smoothly, so there's nothing to fear about them. If you follow the steps outlined here, these notices should prevent issues rather than causing them. 
For CollectiveSun clients, it's important to reach out to us regarding any preliminary notices you receive as soon as you receive them. If you have questions about preliminary notices, joint checks, or lien waiver and releases, don't hesitate to reach out to discuss further.