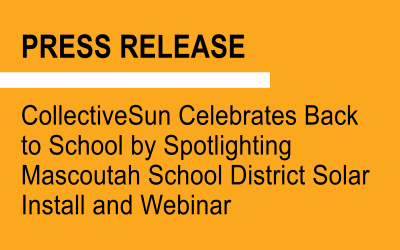 Press Release: CollectiveSun Celebrating Back to School Season at 8/25 Webinar
---
FOR IMMEDIATE RELEASE 
Contact: Lindsay Harmon, [email protected], 619-736-7472
Mascoutah, IL [August 25, 2021] — CollectiveSun, a company dedicated to assisting American nonprofits and tax-exempt organizations in funding solar projects, is celebrating the start of another school year by honoring the Mascoutah School District 19 in Mascoutah, IL and their recent move to go solar. This focus on the district includes featuring them in CollectiveSun's Nonprofit Solar Spotlight article series, something that also involves discussing the district's solar journey in a webinar later this month.
Mascoutah School District 19 consists of 4,500 students attending five schools: three elementary schools, one middle school, and one high school. The majority of their students live in the town of Mascoutah, though the district also serves the nearby Scott Air Force Base. Earlier this year the district installed PV solar systems on two of their grade schools, one a rooftop system and the other a solar field next to the school. EFS Energy, a premier St. Louis based solar contractor, installed both systems with a combined 1,326 kW.
"We hope that over the long term, the environmental impact of the solar system will serve the community into the future," said Mascoutah's Superintendent of Schools, Craig Fiegel. "Hopefully, it will inspire people in our communities to take the step as well – or at least think about how they can make changes in their homes or businesses that would help impact the current climate situation."
The upcoming CollectiveSun webinar is entitled Back to School with Solar: Mascoutah School District 19 Shares their Solar Journey, and will be held on August 25 at 11am PT. It will feature Mascoutah's Craig Fiegel and the Vice President of Sales at CollectiveSun, Matt Brennan. They will discuss Mascoutah's journey to go solar, focusing on the steps taken to secure a contractor, financing and community support as well as the challenges faced by the district. Additionally, Brennan will highlight the advantages of partnering with CollectiveSun when a nonprofit seeks to go solar. A new CollectiveSun partner, Generation180, an organization that helps spread solar by providing resources and guidance to schools and their community members, will be participating in the webinar as well.
Mascoutah School District financed the solar system themselves, with a 12% discount made possible through their partnership with CollectiveSun. In their work with nonprofits and tax-exempt organizations, CollectiveSun helps lower the cost of a solar system installation by monetizing the federal solar tax credit. They have partnered with 13 educational institutions since their founding in 2011.
To register for the webinar, click here.
Contact Information:
Lindsay Harmon
Email: [email protected]