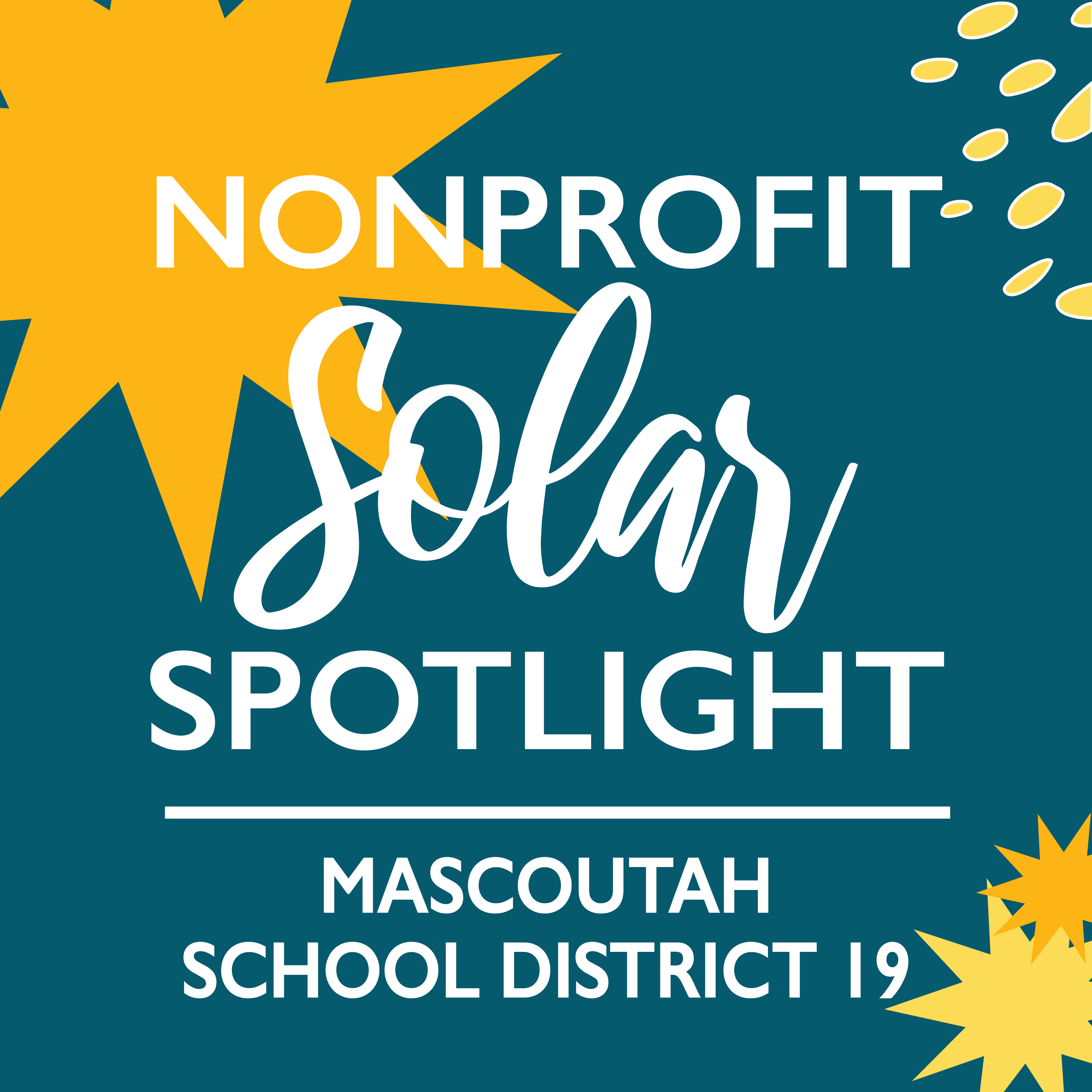 Nonprofit Solar Spotlight: Mascoutah School District 19
---
Story by Sara Carbone, CollectiveSun Content Marketing Manager
At CollectiveSun, we believe that renewable energy and the community-driven work done by nonprofit organizations go hand-in-hand! Over the past 11 years, we have partnered with over 150 nonprofits and tax-exempt organizations to go solar, and we are continually inspired by their commitment to making a difference in the climate crisis and pursuing the kind of change that keeps them focused on their mission-based work.
Our Nonprofit Spotlight series features and celebrates these organizations and their decision to make the leap to solar. The seven nonprofits that we have spotlighted thus far are Congregation Shaarei Tefillah in Massachusetts, Our Savior's Lutheran Church and the Museum of Photographic Arts in California, New Milford United Methodist Church and Newtown Congregational Church in Connecticut, St. Peter's Episcopal Church in Massachusetts, and the Association for Mental Health and Wellness in New York. This month we are proud to feature our first school district, the Mascoutah School District 19 in Illinois.
We recently interviewed Mascoutah's Superintendent of Schools Craig Fiegel, who shared their experience going solar and what it was like to work with CollectiveSun. Craig discussed what drove them to pursue solar for two of their schools and looked at some lessons learned along the way.
We'd like to begin by asking you to share the story behind Mascoutah School District 19.
We have a total of about 4,500 students with five schools: three elementary schools, one middle school, and one high school. We serve an approximate 104 square mile school district, largely in Mascoutah, a town of about 10,000 people. In addition to that, we serve Scott Air Force Base, the largest employer in the metro east whose mission is to provide logistical support for the entire armed forces. The base has a pretty significant housing population living on base. We also serve parts of other communities as well.
What are the main issues that the Mascoutah School District 19 focuses on?
Our main issue is a focus on our students and providing them with the resources and support that allow them to learn and grow to meet their highest potential. We feel that learning grows through providing the highest quality instructors and that clean, updated facilities and technology are tools that allow all this to happen.
A quality learning community has been the tagline in MCUSD 19 for a very long time and a commitment to facilities has been a spotlight in the community.
" As we were exploring options we not only focused on the savings and ROI but also saw it as a huge commitment to our students' future. Embracing renewable energy is clearly a commitment to the future and reducing our carbon footprint. "
What sparked the Mascoutah School District 19's interest in renewable energy and sustainability?
Over the past 6-7 years the district, through the leadership of our Director of Buildings and Grounds Wayne Kunde, has looked for ways to reduce our gas and electric usage. We have retrofitted all buildings with central controls to manage the HVAC systems and as a result have seen significant energy savings.
The next logical step was to look at solar energy as a way to impact our energy costs. Our Board President was a huge influence in our efforts. He installed solar panels at both his home and business and was excited about the savings he realized. As we were exploring options we not only focused on the savings and ROI but also saw it as a significant commitment to our students' future. Embracing renewable energy is clearly a commitment to the future and reducing our carbon footprint. 
How does your district's going solar impact your mission and focus on social issues?
Again, our mission is educating students, and the idea of being able to save money allows us to put more towards our mission. Being able to be a leader in renewable energy in the area is an exciting development for us. We serve as an example to others – our students and staff and visitors – of an organization that is able to operate sustainably for future generations.
How did you hear about CollectiveSun, and what motivated you to pursue the CollectiveSun ownership model? 
When exploring options for solar I watched a video about CollectiveSun and financing options and as we worked with our solar supplier they recommended CollectiveSun as a finance partner. Their financing model was appealing because it gave us the opportunity to get a discount on the installation price. We ended up saving 12% on the contractor's bid, something we wouldn't have been able to do otherwise. Also, CollectiveSun owning the system for the first bunch of years meant that they would be vetting the system for us, ensuring that all was functioning correctly.
When we were exploring the option of solar, we did look at models where someone else owns the system for the next 20-25 years, and they get the incentives and pass those savings on to us. But essentially we would have been buying power from them as the owner. Ultimately, we came to the conclusion that if we could own it there would be much greater potential for savings. One of the incentives for working with CollectiveSun was that they would own it and share the savings, the credits, and eventually pass the ownership on to us.
We did actually finance the whole system. We had the money in our reserves, and we felt that it would be the best way for us to get savings. It was projected to have an ROI of about five to six years, and I think we're probably a little ahead of that. We've seen some pretty significant savings now – hot, sunny summer – with the systems powering the buildings and not using anything off the grid anymore. Of course, that won't be what happens when we get into the winter, but it's great to see now.
How do you see solar energy impacting the community you serve?
We hope that over the long term, the environmental impact will serve the community in the future. Hopefully, it will inspire people in our communities to take the step as well – or at least think about how they can make changes in their homes or businesses that would help impact the current climate situation. For one of our schools, we do have a big solar field, because it's a two story building and doesn't have sufficient roof space. We were trying to get 90-95% electrical capacity out of it, pretty much supplying all the power to the school. That school sits in a neighborhood, and the solar field is very visible, though we have it fenced to ensure it is not easily accessible.
Do you have any advice for other districts looking to go solar?
Two of our grade schools have about 90,000 square feet and get their electricity from Ameren Electric, a large electric provider in Illinois and Missouri. Ameren had incentives to go solar. One of the buildings is set out in a rural area so we didn't need city building permits, and for the other we didn't receive any pushback from the community.
However, our three larger buildings are actually in Mascoutah and they aren't eligible for solar. They get their electricity from the city of Mascoutah which is part of the National Rural Electric Cooperative Association. That cooperative has certain restrictions. Even though we fought with the city for a while, we could not get permission to put solar on those three buildings. I would say you need to be aware of those things, that it's not always simple to get the permission to install.
About Mascoutah School District 19
Mascoutah School District 19 serves Scott Air Force base and the community of Mascoutah as well as areas of three other communities. There are three elementary schools Pre K-5, one middle school 6-8, and one high school 9-12, all together serving approximately 4,500 students.
Mission Statement
Engaging every student, every day, in quality learning opportunities
Vision Statement
Our district will provide every student the resources and opportunity for personal growth as they develop 21st-century skills including critical thinking, communication, creativity, and collaboration. Our students will be contributing members of society who value the pursuit of learning and service to others.
Belief Statement
To achieve our mission, fulfill our vision, and achieve our goals, we must hold to our belief system. We believe:
All students can learn and succeed.
A diverse, well-trained, and dedicated staff is essential for excellence.
We must provide a high-quality learning experience to ensure student success.
There is value in the diverse nature of our rural, suburban, and military community.
The future of our nation, state, and community is dependent upon effectively educating all children.
Learn more about Mascoutah School District 19!
About Craig Fiegel
This year will begin Craig's tenth year as superintendent of Mascoutah Community Unit School District #19 in Illinois, part of the St. Louis Metro East. He began his career in 1977 as an educator in his home state of Kansas as a 7-8 math instructor and served as a building administrator at all levels K-12, then as an Assistant Superintendent for Business and Operations for eleven years.
In 1999 he took his first position as Superintendent in the Chicago suburb of Evergreen Park and then left there in 2008 for Plymouth-Canton, Michigan, a large suburban district west of Detroit. Craig has a Ph.D in Educational Administration from the University of Kansas, and is a member of the Illinois Association of School Administrators and the American Association of School Administrators.
The 1,326 kW Mascoutah School District 19 solar projects were installed by St. Louis-based EFS Energy.
If you are a Nonprofit organization interested in learning more about solar, or are looking to launch a solar project with a Nonprofit organization, please contact our VP of Sales, Matt Brennan who can answer any of your questions.
Matt can be reached at [email protected] or 619-838-7363.