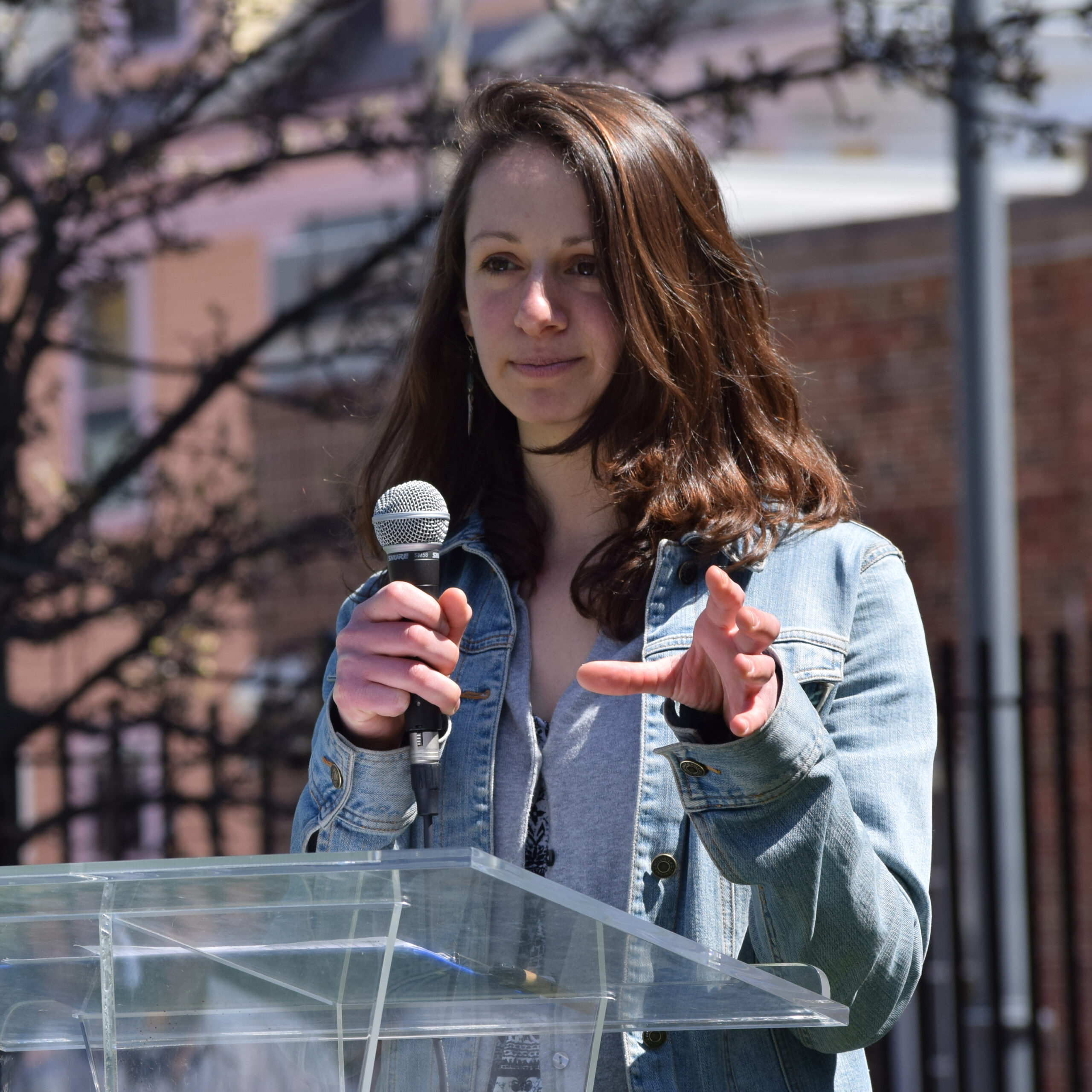 The Solar Industry During COVID: A Conversation with Madeleine Barr of Resonant Energy
---
Story by Sara Carbone, CollectiveSun Content Marketing Manager
Resonant Energy, an organization whose mission is to help under-invested communities gain access to solar, shares CollectiveSun's commitment to helping nonprofits achieve financial and environmental sustainably. They are grounded in the idea that communities most impacted by climate change and racial injustice should be able to reap the economic benefits of an economy powered by clean energy. 
Resonant's platform and partnerships with impact investors help connect installers with suitable projects and ensure that all aspects of the proposal, financing and installation process are handled. Resonant works with nonprofits, affordable housing providers, and low income homeowners in Massachusetts, New York City, and Long Island. To date, they've completed solar installations on more than 100 sites, including multiple projects with CollectiveSun.
In our interview with Madeleine Barr, VP of Outreach & Sales at Resonant, she offered her perspective on the current economic changes experienced by various participants in the solar industry as well as policy developments in Massachusetts and their impact on Environmental Justice communities.
Where do you think solar is headed in 2021 given the impact of COVID in Massachusetts and nationally? 
The solar industry is really taking off as we enter Q2 2021, and I expect it will remain that way throughout the year. We generally saw an increase in our pipeline throughout 2020, though there was some slow down during Covid in a few of the markets we work in. Many faith-based organizations in particular fund their solar projects through volunteer hours and in-person fundraising events, so when the nation came to a halt in March 2020, those structures and schedules became very disrupted. We're seeing organizations re-engage as we exit both the winter and the brunt of the pandemic, and I'm optimistic to see that clean energy remains a priority for many organizations. 
How has the solar industry been reshaped by the recent economic changes due to the pandemic? How about specifically in Massachusetts?
The major economic change in the solar industry that we observed was many organizations choosing to conserve their capital and hesitating to take on new debt. Many of the new projects we helped move forward over the past year opted for third party financing as opposed to self financing. Third party financing remains as hungry as ever for new projects, especially with the extension of the Federal Investment Tax Credit.
"We're seeing organizations re-engage as we exit both the winter and the brunt of the pandemic, and I'm optimistic to see that clean energy remains a priority for many organizations."
What are some of the challenges faced by the Massachusetts solar market from recent policy developments (state and federal), and what role is Resonant Energy playing in those developments?
There were a number of policy developments in Massachusetts over the last year. For one, Resonant Energy played a role with a number of our local partners to advocate for low-income policies that more effectively remove the solar barriers faced by limited resource communities. In addition, Governor Charlie Baker passed legislation that established a state-wide goal to reach net zero carbon emissions by 2050. While we support a clear net zero carbon goal, we are disappointed that the bill did not include more aggressive and expansive measures to achieve this goal. Last, we are relieved by the extension of the Federal Investment Tax Credit for another two years at the current level. 
What is the status of the barriers, regulatory and otherwise, faced by Massachusetts seeking to increase their solar adoption rates, particularly given recent events? How do you think Resonant Energy will be impacted by these?
This is a big question as the barriers for different types of solar deployment are extremely varied. Resonant Energy focuses largely on expanding access to nonprofit organizations and limited resource communities. Solar adoption among nonprofit organizations and affordable housing organizations is trending upwards, especially as we are able to introduce flexible financing options and long term loans.
One of the largest issues in the solar industry is the equitable distribution of solar adoption across the state. There are dramatic gaps in solar access within Environmental Justice (EJ) communities, which are characterized by low socioeconomic status, English isolation, and non-white identification. This trend exists for a number of reasons including challenging older building stock, lack of foreign language capacity within solar companies, and the perception that organizations and homeowners who live in EJ communities will be more difficult to underwrite. Resonant is working to address some of these barriers by partnering with coalitions in EJ communities and making policy recommendations that take these barriers into account.
How does Resonant Energy impact environmental justice? What are your 2021 goals around this issue?
Environmental justice is a major focus for Resonant Energy. 46% of the projects we've done serve EJ communities. We are proud to offer one of the highest impact solar programs in the country, the Solar Access Program, which delivers solar arrays and provides deep cost savings to low-income homeowners in the Boston area who do not qualify for other forms of financing. Through this program, we've been able to leverage grant funds to address pre-installation barriers and impact capital to set up a distributed solar hosting model. 
As mentioned previously, we've also been engaged in policy advocacy at the state level to encourage the adoption of more inclusive solar policies. To this end, we've been in collaboration with VoteSolar, Blue Hub Capital, and a broad coalition of environmental justice groups and have been successful in achieving the formal adoption of "The Low-Income Guideline" policy amendment to the SMART program, which states that at least 15% of the Low-Income Solar Tariff Generation Unit output can be provided to an eligible Low-Income Customer at no additional cost. 
In addition, Resonant is in the process of rolling out an official Diversity Equity and Inclusion statement that codifies our commitment to social and racial justice in our company's practices and policies. We believe that building an equitable clean energy economy must include expanding access to the benefits of solar savings, solar asset ownership, and solar jobs.
What kinds of questions are you seeing from nonprofits?
The main questions we see from nonprofits surround the financing options that are available to them. It's an important part of Resonant's process to be able to offer our clients at least two different pathways they could pursue to finance their solar arrays. We create custom proposals for our clients that compare these two options and make recommendations based on their priorities. In addition, as the solar policies change in MA so often, we get many questions from organizations trying to understand how the primary state incentive vehicle for solar in MA (SMART) works. Resonant Energy is able to provide our clients with some of the most thorough incentive and policy insights in the state and can model how these policies may change and impact their savings. 
How many nonprofit organizations has Resonant Energy worked with? 
Resonant Energy has built nearly 3 MW of projects across 178 different sites and 123 nonprofit organizations.
What's the best way for a nonprofit to get started working with Resonant Energy?
We'd love to hear from you! To contact us directly, use our website or call Business Development Manager, Macy Zander at 617-657-4297.
About Madeleine
Madeleine Barr is the VP of Outreach & Sales and Co-Founder at Resonant Energy. She approaches her work with belief that we can use renewable energy to achieve a cleaner and more equitable future. Resonant Energy is a community-based solar provider in Boston, MA, specializing in bringing custom financing options to nonprofit organizations, affordable housing, and houses of worship.
Madeleine joined the founding team at Resonant Energy in 2016 with a background in program design and implementation, and managing community-wide programs to promote the rapid adoption of solar PV, electric vehicles, and energy efficiency services. She holds a BA in Environmental Studies from Brandeis University.