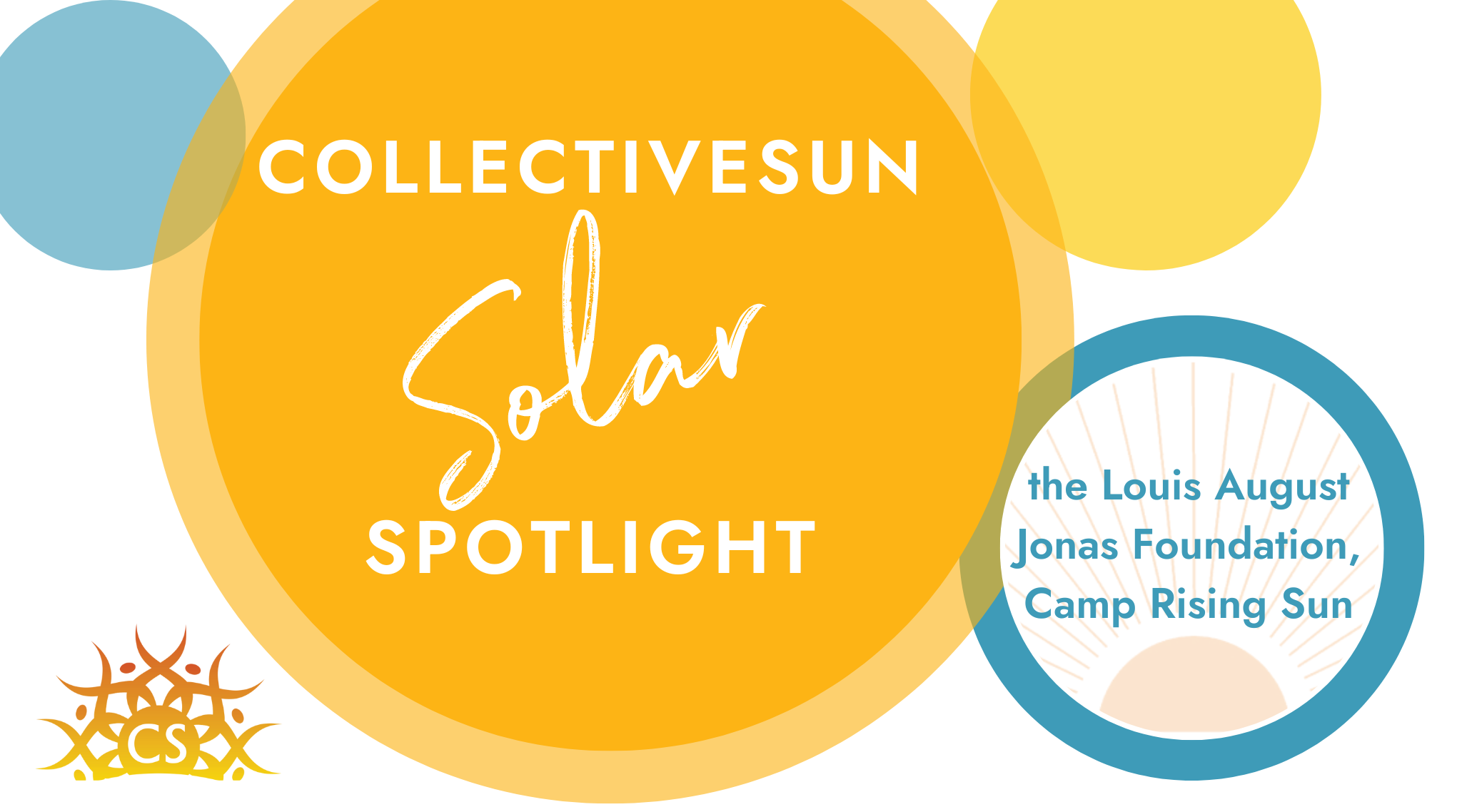 SOLAR SPOTLIGHT: THE LOUIS AUGUST JONAS FOUNDATION, CAMP RISING SUN
---
CollectiveSun has been dedicated to assisting nonprofit organizations in achieving their renewable energy goals for more than a decade. We prioritize our partners' missions and believe in highlighting the meaningful connections that make each organization unique.
The Nonprofit Solar Spotlight is a series celebrating the nonprofits we work with who choose to go solar in order to achieve financial and environmental sustainability for their organization. This is our first spotlight story of the year featuring a nonprofit we partnered with in their journey to go solar.
We are excited to introduce you to Camp Rising Sun, a nonprofit offering transformative summer camp experiences to you people from around the world. In this special feature, Tim Conners, an alumnus and board member of Camp Rising Sun, shares insight about the Camp's journey to solar, how the camp "completely changed my life" and how he continues to empower new generations of future leaders each summer.
Tim Conners radiates enthusiasm when discussing his dedication to fostering a learning environment that cultivates future leaders from around the world. With a history spanning 92 years, Camp Rising Sun has consistently created such opportunities. Established by philanthropist George E. Jonas in upstate New York, the camp's mission is to "develop in promising young people from diverse backgrounds a lifelong commitment to sensitive and responsible leadership for the betterment of their communities and world." Since its inception, Camp Rising Sun has nurtured countless leaders and fostered lifelong friendships.
As a proud Camp Rising Sun alumnus, Tim has had life-changing experiences that continue to shape his life as he supports new generations of future leaders. He fondly recalls forming friendships with peers from diverse backgrounds during his time at camp. One of his closest friends was from Ghana, which broadened his perspective through a recognition of both the diversity and shared experiences of two young men from opposite sides of the globe. Recounting those memories, Tim reflects on how Camp Rising Sun transformed his life. After camp, he felt inspired and eager to forge new connections and embraced the diversity fostered at Camp Rising Sun.
"This should be something every kid could experience."
Camp Rising Sun, committed to nurturing a leadership-focused environment, also strives to minimize its environmental impact by incorporating renewable energy sources. Tim, his peers, and an expert with Tim's local rotary organization collaborated with CollectiveSun to transition to solar energy. Recognizing the importance of reducing their environmental impact and ensuring the camp's sustainability, CollectiveSun offered a solution that aligned with their objectives. Together, they are positively impacting the environment and securing a bright future for Camp Rising Sun.
Camp Rising Sun has gone solar in a big way, with the installation of an 86.43kW solar system that includes both rooftop and ground-mounted arrays. With an estimated offset of about 99% of their annual electricity usage, this nonprofit is making a major impact on their carbon footprint. They credit their success to having a dedicated project lead and a supportive team to help navigate the process. Their advice to other nonprofits exploring solar for their organization? "Just Do It!"
"CollectiveSun was a wonderful partner.  They had an understanding of how non-profits operate, provided great front-end support to help us get focused on the right things, and gave our team confidence that we were crossing all the "t's and dotting all the "i's" as we moved through the process.  CollectiveSun was also available to help us with all the questions that came up as we had never done an installation like this before."
Camp Rising Sun is an international, full-scholarship leadership summer program designed for students aged 14 to 16. Participants are selected based on merit, not financial means. Instead of paying tuition fees, campers are asked to pay it forward by sharing the benefits they gained with others. Please consider supporting Camp Rising Sun, and visit them here: Camp Rising Sun — The Louis August Jonas Foundation (lajf.org)