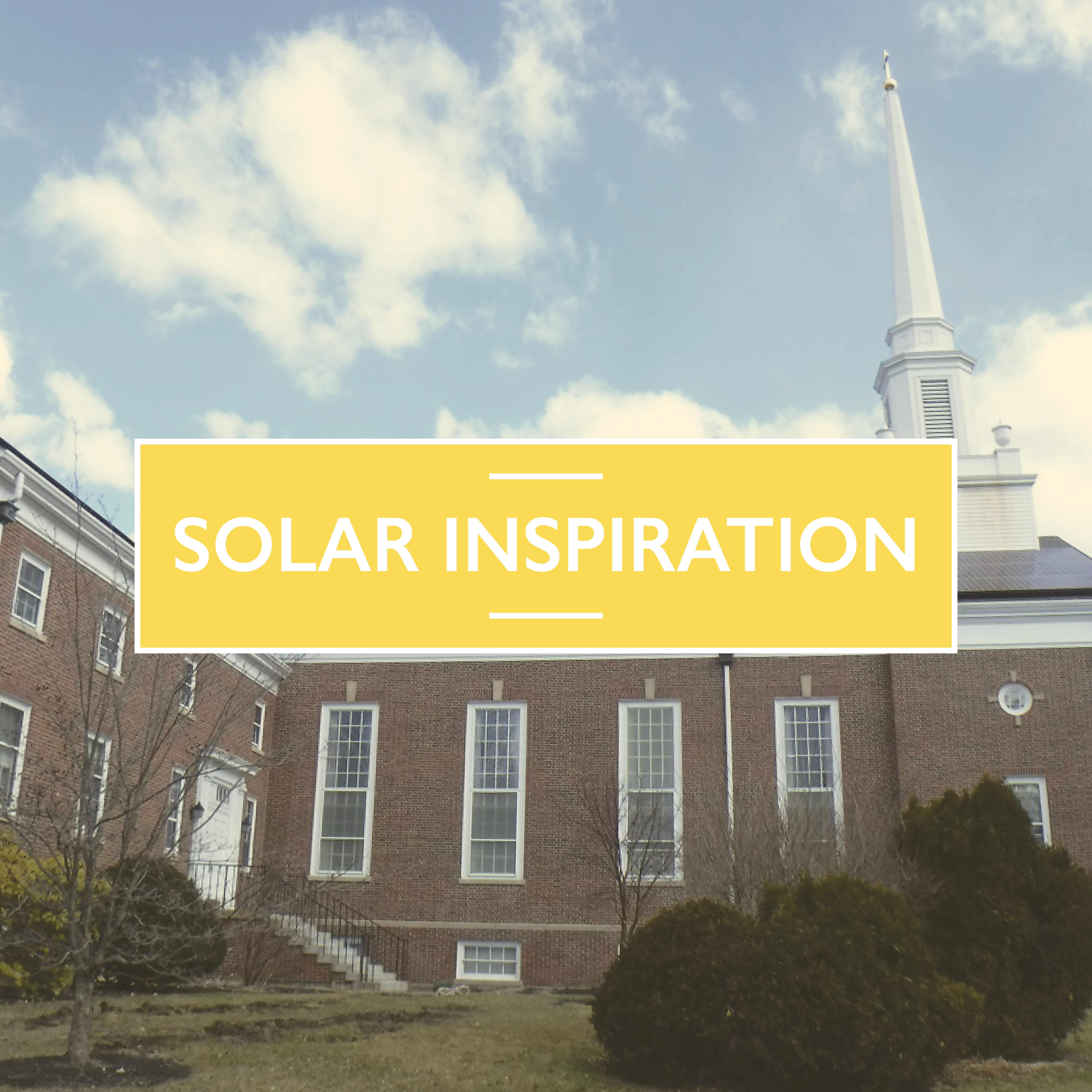 Solar Inspiration — Houses of Worship and the Fight Against Climate Change
---
Story by Sara Carbone, CollectiveSun Content Marketing Manager
For many Americans, houses of worship provide much needed spiritual support for their communities. This support and sanctuary has been essential during tumultuous times. It is why helping them go solar is such a meaningful aspect of our work at CollectiveSun. 
Over the years we've worked with a number of different types of nonprofits and tax-exempt organizations, including community centers, golf clubs, schools, and housing facilities. This monthly series, Solar Inspiration, focuses on these various industries and highlights the nonprofits we've partnered with as they transitioned to solar. Our first featured industry was museums and other art and cultural institutions and our second is houses of faith.
Climate change continues to have a significant effect on our environment, and people of faith around the world are helping to address it. Pope Francis, in a 2015 papal document, called for an "ecological conversion," asking people of faith to hear "the cry of the earth" and correct "models of growth which have proved incapable of ensuring respect for the environment." In the United States, churches, temples and mosques are playing their part in this ecological conversion by looking to reduce their own emissions and shift to more sustainable practices. 
Places of worship are typically designed to make room for large numbers of people, and this comes with a cost: high power bills due to significant requirements around lighting, heating, and cooling. As a result faith based organizations seek ways to reduce their operating expenses without cutting into mission based services, particularly in the age of decreased giving and shrinking membership. Oftentimes solar is a perfect solution. 
Recently, St. Peter's Episcopal Church in Weston, Massachusetts partnered with CollectiveSun to make the leap to solar, installing a 30 rooftop kW system. Jim McDaniel, parishioner and chair of the Property Committee at St. Peter's, described the importance of solar for faith based organizations during these times: "We have to find ways to show that we are supporting goals beyond ourselves, such as addressing environmental concerns. Doing concrete things to address climate change is a very important way to tell the broader community that we are an organization that cares." 
St. Peter's is one of over 770 houses of worship in 47 states, double the numbers in 2016, addressing environmental and financial concerns through solar.
" Houses of worship in America and around the world represent an important partner in the fight against climate change. "
" Doing concrete things to address climate change is a very important way to tell the broader community that we are an organization that matters. "
— Jim McDaniel, parishioner and chair of the
Property Committee at St. Peter's Episcopal Church
Why Houses of Worship Go Solar
There are a number of reasons why more and more faith based organizations of all major faith traditions are pursuing clean energy. 
A major driver is the fact that installing solar panels saves money on electricity, freeing up a congregation's operating budget for community welfare projects and pastoral care. Jim at St. Peters talked about how using the CollectiveSun's hybrid model of ownership and project cost discount allowed them to reduce the cost of the project and maximize the cash flow, "which virtually every church these days is looking for." 
Going solar also allows the organization to assume a leadership role in their community. Installing a solar system tends to set an organization apart from others and create a precedent for social change and participation. It encourages parishioners, members of the community and other businesses and organizations to switch to renewable energy. People also feel that their congregation cares about reducing the carbon footprint, something that engenders community support through donations and participation in outreach events.
Some houses of faith are tapping into the increasingly popular format of the community solar garden to assist their greater communities. In 2017, Shiloh Temple in Minneapolis installed a 630-panel array which ended up supplying green energy to the nearby Masjid An-Nur Mosque and 29 local households. This approach is inside of a growing initiative by faith-based organizations to forward their missions by making sometimes cost prohibitive renewable energy available to low income communities. 
While not a community garden, St. Peter's solar project also forwarded an important aspect of their mission. Like the Shiloh Temple, the church is making renewable energy available to a mosque, the Yusuf Mosque in nearby Brighton, by selling their net metering credits to them for a discounted rate. Jim said that this aspect of the solar system really green lit the project at the church and that parishioners were "thrilled because it really met another priority of the parish, which is to foster interfaith cooperation."
The fact that certain barriers have been removed in recent years has helped spread solar among houses of worship. The systems themselves have become more affordable. Additionally, a proliferation of financing alternatives has meant increasingly favorability economics. This includes the expansion of Property-Assessed Clean Energy (PACE) financing, such as long term C-PACE solar financing offered by our partner, Greenworks Lending, CollectiveSun's Solar Power Agreement (SPA), an agreement that allows congregations to access tax credits, and our joint offering with Greenworks, CollectivePACE.
Creation Care
The belief in stewardship of the earth is often a significant factor when faith-based organizations go solar. Interfaith Power & Light (IPL), a national coalition that works to mobilize people of faith to take action around climate change, states that "the very existence of…life that religious people are called to protect is jeopardized by our continued dependence on fossil fuels for energy. Every major religion has a mandate to care for Creation."
For many houses of worship, there is an inextricable link between solar energy and religious practice. The imperative to care for the suffering is a tenet in every major religion. James Nail, president of the Massachusetts chapter of IPL, points out that impacting climate change, given that it causes suffering, is a moral necessity. Nail also adds that, since a religious organization is very likely to be perceived as being driven by moral reasons and has a certain level of established trust with their congregants, they have a special role to play in motivating people to go solar.
Rev. Mariama White-Hammond, pastor of Boston's New Roots AME Church, says that solar on churches helps members and neighbors think about environmental action and solar as part of their lives at home as well. Some houses of faith sell electricity to members or share it with local organizations like food pantries. Others not able to install solar themselves weave the cause into their work. A Massachusetts based Unitarian Universalist church works to encourage congregants and other community members to take advantage of the town's rebate program to install solar on their homes.
The movement is particularly powerful among synagogues in America, with organizations like the Jewish Climate Action Network helping to spearhead the effort. When Rabbi David Freelund of the Cape Cod Synagogue sermonized on renewable energy and changing patterns of behavior, he said the response from congregants was powerful and community action ultimately led to the installation of a 41.6KW rooftop system on their synagogue. He concluded that "our investment in renewable energy has been a positive for the environment, an expression of our Jewish values, and a net budgetary savings." Tikkun olam, Hebrew for "repairing the world," is "a huge principle of Judaism" said the president of Congregation Beth Shalom of the Blue Hills in Massachusetts and was part of what drove his synagogue to install a solar system.
A number of American Buddhist temples have also gone solar. Loanie Lam, the owner of the Chua Di Lac Buddhist Temple in California, noted that spirituality is linked to engagement in ecological issues for them and that their 49.8 kW solar system "is an extension of our commitment to our community and mother earth."
CollectiveSun's Commitment to Solar for Houses of Worship
In addition to St. Peter's Episcopal Church, CollectiveSun has worked with 72 religious based organizations on projects that have included rooftop, carport and storage systems.
Our Savior's Lutheran Church in Lafayette, California partnered with us to go solar in 2019 to install a 56.25 kW system projected to save them $680,000 over the lifetime of the system. Pastor Dan Senter described the solar project as an extension of the way their congregation identifies itself, a key reason why they made the choice to go solar: "Ultimately, in order to make the leap to solar, it had to be part of a longer narrative about the way the congregation self-identifies as passionate about doing things on behalf of the environment and then linking that journey to their spiritual lives." 
The church's treasurer Chris House talked about the importance of the financial impact of the project and low level of risk. He said, "what really got our solar project over the line was people's realization that being good stewards of our community's financial resources is important and going solar is a very clear extension of that because of its dramatic impact on the church's operating budget." 
Another house of faith we worked with was Congregation Shaarei Tefillah, a Modern Orthodox synagogue in Newton Centre, Massachusetts. CollectiveSun helped them install a 70.18 kW system that is projected to save them $23,000 annually. Shaarei Tefillah chose to work with CollectiveSun because we offered a discount on the installation cost and could help them secure financing that would make the payback period work for them. Former president Michael Rubin also noted that there were many other benefits about working with CollectiveSun, such as project management and quality oversight when needed. Houses of worship in America and around the world represent an important partner in the fight against climate change. Their leadership and parishioners alike show a powerful commitment to using solar to make financial and environmental sustainability a reality for themselves and their communities. 
As Pastor Dan at Our Savior's Lutheran Church put it, "The solar panel is the most visible indicator of the passion people have about combining a spiritual connection with the natural world. The system is a dominant visual reminder of the passions that are percolating inside of this community." We at CollectiveSun share that passion and will continue to support its growth.
If you are a Nonprofit organization interested in learning more about solar, or are looking to launch a solar project with a Nonprofit organization, please contact our VP of Sales, Matt Brennan who can answer any of your questions.
Matt can be reached at [email protected] or 619-838-7363.