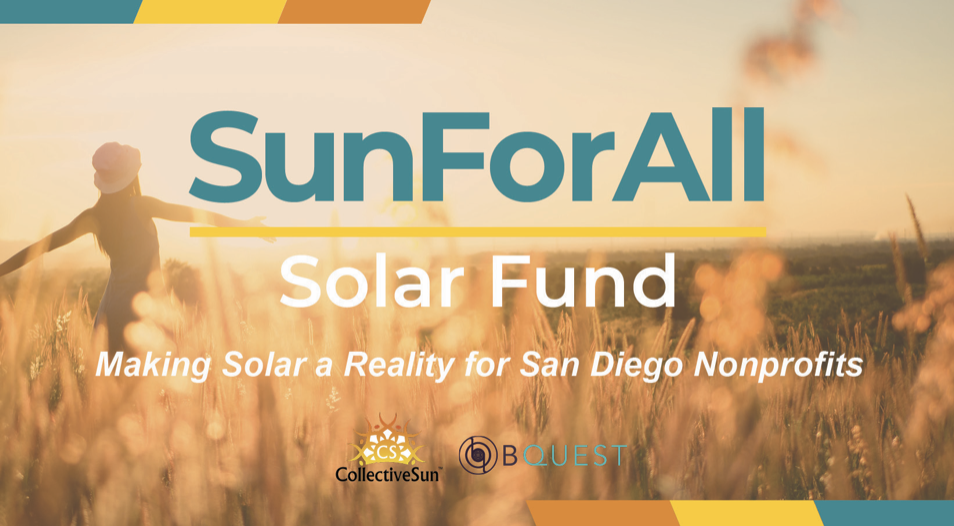 SUNFORALL SOLAR FUND
---
Posted 05/29/2020
For the latest information on SunForAll Solar Fund, please refer to the SunForAll page!
We are very excited to introduce our SunForAll Solar Fund — a new solar funding program for nonprofits. Created in partnership with the San Diego based BQuest Foundation, SunForAll provides 100% funding for qualifying nonprofits in San Diego and Imperial County. SunForAll makes going solar accessible for organizations that provide important services to our communities and helps them lower operating costs, reduce their environmental impact, and increase social and economic equity.
The program is comprised of three distinct components that add up to 100% funding for a solar installation: 
1) A Free technical review and project feasibility study
2) A 12% tax-like credit benefit for nonprofits
3) 3.5%, 10-year terms
Applicants must be a valid 501(c)3 entity located in San Diego or Imperial County and be able to secure a valid solar bid within 30 days of selection as a SunForAll awardee. Priority will be given to organizations supporting underserved or marginalized communities and those with a focus on reducing social or economic inequity.
Grant applications opened on Monday, June 1st, and are now being accepted for the Summer 2020 grant cycle. We asked co-founder and president of BQuest Foundation, Kara Ballester, all about the foundation, SunForAll, and the partnership with CollectiveSun.
What are the main issues that The BQuest Foundation focuses on?
BQuest is a private family foundation whose primary focus is on climate and affordable housing and homelessness in the San Diego area. The foundation has a specific focus on increasing the use of renewable energy and decreasing carbon emissions in an equitable way.
What inspired your commitment to renewable energy and sustainability? 
The 2018 Intergovernmental Panel on Climate Change (IPCC) raised the alarm that the planet was almost out of time to prevent catastrophic global warming. This really took the foundation's focus in a new direction. We felt that we had the opportunity, and also a responsibility, to do what we could to address the climate crisis. 
At first, it felt like a focus on climate change meant less support for other issues, but what we've really learned since then is that climate change is related to so many other issues that we, as a society, care about – issues from affordable housing to economic opportunities to health. We're already seeing this happen and Covid provides an additional example of how vulnerable our economy and marginalized populations are in the face of disaster.
What motivated you to begin the partnership with CollectiveSun to launch SunForAll?
The climate crisis is obviously a massive problem that we need the government to address. That's why BQuest funds a number of groups working on advocacy, policy, and legal strategies and movements. However, we also wanted to participate in building renewable energy projects ourselves to help contribute to lowering emissions immediately and to provide pilot projects and ideas that could be replicated elsewhere. CollectiveSun had already built a business that helped nonprofits capture some of the tax incentives available for solar installations that they weren't able to benefit from otherwise. They've helped finance projects all over the country and have a lot of experience. 
However, we learned from CollectiveSun and from speaking with some local nonprofits that it was still hard for many nonprofits to finance solar installations, even though they knew it would help them reduce operating costs. Working with CollectiveSun, we designed a financing solution that gives nonprofits a solar discount, a grant, and a low-interest loan that together ensure that the nonprofit never pays more towards their loan repayment than they were already paying for utility bills from day 1. And those savings grow exponentially over time. 
What aspect or outcome of SunForAll are you most excited to see develop?
We really love the multiple layers of impact that the SunForAll fund will have. We'll be able to increase the use of renewable energy, help nonprofit sustainability by reducing their operating costs, support the solar industry during a time of business challenges, and get a return on part of our investment so that we can recycle our funding. We're also primarily focused on financing projects for nonprofits that serve marginalized communities, something that provides yet another layer of impact.
How do you see SunForAll impacting the greater San Diego community?
We hope that we'll be able to reach a lot of nonprofits that serve our community and help their financial sustainability. These are the same nonprofits that provide so much relief and essential services for different parts of our population. Especially during this Covid crisis, we're all very aware of the needs of our community that are served by clinics, food banks, family services, and other vital nonprofit organizations. We really feel that each dollar saved on their operating costs is a dollar put to work serving others. It's a dollar that helps get San Diego closer to our goal of 100% renewable energy and demonstrates the value of cleaner air and a cleaner environment.
What parts about working with CollectiveSun and SunForAll do you enjoy the most?
It's been really rewarding to work with a partner like CollectiveSun because their team has a lot of knowledge about the solar industry, possesses the same mission to help build more renewable energy, and is open to building creative new solutions with us. 
What are some of the things you've learned along the way?
We've been happy to see that many nonprofit organizations are already looking for ways to go solar. We haven't had to convince them of the value of solar, and it has been great to hear from many nonprofits that they also care greatly about the environmental benefits, even though their missions might not officially include environmental concerns.
Looking forward, what are your goals for SunForAll and The BQuest Foundation?
Our goal for SunForAll is to have a successful first round of financing that we put to work this year. Our initial funding goals have been met and we continue to focus on getting the word out to more nonprofits about this opportunity. If we build millions of dollars worth of solar installations for area nonprofits serving marginalized communities while supporting the local solar industry – all in the middle of a global pandemic – we'll be very happy!
"We hope that we'll be able to reach a lot of nonprofits that serve our community and help their financial sustainability."