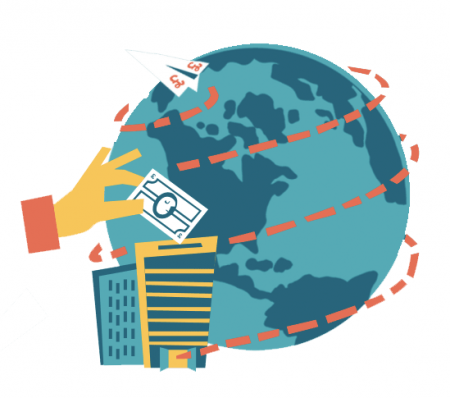 THE FUTURE OF SUSTAINABLE IMPACT INVESTING & HOW YOU CAN PARTICIPATE
---
Story by Sara Carbone, CollectiveSun Content Marketing Manager
Together with hundreds of thousands of people around the world, we are celebrating Good Money Week from October 24th-30th. If you haven't heard, Good Money Week is an annual campaign that raises awareness about sustainable and ethical choices around banking, pensions and investments. Good Money Week's comprehensive website is designed to provide educational awareness regarding the ethical implications of how people spend and invest their money.
At CollectiveSun, we are dedicated to making solar a reality for as many of the 1.5 million U.S. nonprofits as possible by offering simple, low cost funding options. Given Good Money Week's focus on sustainable and responsible investing, we thought we'd talk about what drove us to create CollectiveSun and where we're headed, particularly with regard to values aligned investing.
 A New Funding Model for Nonprofits
We founded CollectiveSun back in 2011 because we saw that nonprofits were frustrated about the fact that they wanted to go solar and couldn't access the tax benefits associated with renewable energy that makes solar projects affordable. They wanted to reduce their carbon footprint but were instead struggling just to keep the lights on. 
So we created an economically compelling proposition: here's a way to save money on an operating expense and do something good for the environment. We discovered this would resonate because operating expenses are extremely difficult for nonprofits to fundraise for. There's nothing attractive about asking a donor to help pay for office supplies, accounting fees, or electric bills. We came up with a model that said, 'this puts your economics first in a big way and, by the way, it's good for the planet!' To reach our not-so-secret goal – having solar on every nonprofit rooftop in the country – we knew we needed to do it through this kind of positive economic and environmental model.
The funding models we created allow nonprofits to access solar with the least amount of time and effort, for the least amount of money possible. The Solar Power Agreement (SPA), an IRS compliant 3rd party ownership structure, applies tax credits that bring down the cost of nonprofit solar projects by 12% or more on any solar bid regardless of the solar installer selected by the nonprofit. We also help nonprofits with a number of options for funding the remaining 88% and give them access to our deep industry knowledge, project management expertise, and solar engineering experience.
From the beginning, we've put nonprofits front and center. It's incredibly important to help nonprofits achieve financial sustainability so their resources are freed up to focus on their missions – the services we all depend on to enhance our social fabric. It may be about kilowatt hours for us, but for nonprofits it's about the number of veterans served, the number of animals adopted, the number of worshippers in the pews. We wanted CollectiveSun to be the tool that allowed them to do even more great things in our communities.
Helping to Shape the Future for Nonprofits and Investing
In addition to making solar accessible through these specially designed models, we came to see the incredible power of values aligned investing in the renewables space. CollectiveSun has built relationships with impact investors interested in tackling today's social and environmental challenges. One of our partners in this effort is BQuest Foundation, a leader in a new philanthropic era of impact investing.
With BQuest and other investors, we've created a new solar funding program for nonprofits called the SunForAll Solar Fund. SunForAll is a fund that allows qualifying organizations to receive 100% funding for going solar through an innovative hybrid grant and low interest loan. The fund has already awarded two rounds of funding, totaling $5,694,394, to seven nonprofits.
One of these organizations is Vista Community Clinic (VCC), a provider of health services and education to underserved communities. VCC recently added a 419kW 700 panel rooftop and 300 panel carport solar system to their facility in order to help tackle their $50,000 a month energy bill. Their Chief Financial Officer Michele Lambert stated that "as a part of the community and with a vested interest in our youth, VCC wants to make sure it is doing all that it can to leave behind a world that is healthy and stable for future generations. It has been said that widespread use of solar energy reduces some health issues, and we are excited to be a part of something that has such potential."
By helping organizations like VCC go solar, SunForAll embodies the kind of thinking promoted by Good Money Week. It is a model of values aligned investing, for the solar industry and beyond, that provides both a return of capital and a means for investors to address social and environmental challenges. It also helps nonprofits redirect limited resources from operating expenses to direct mission support. As we celebrate Good Money Week, we are proud to support impact investors and nonprofits working hard every day to create the positive change we all want to see in the world.
Learn more about how SunForAll is having an impact on our community, the environment, and how to get involved!