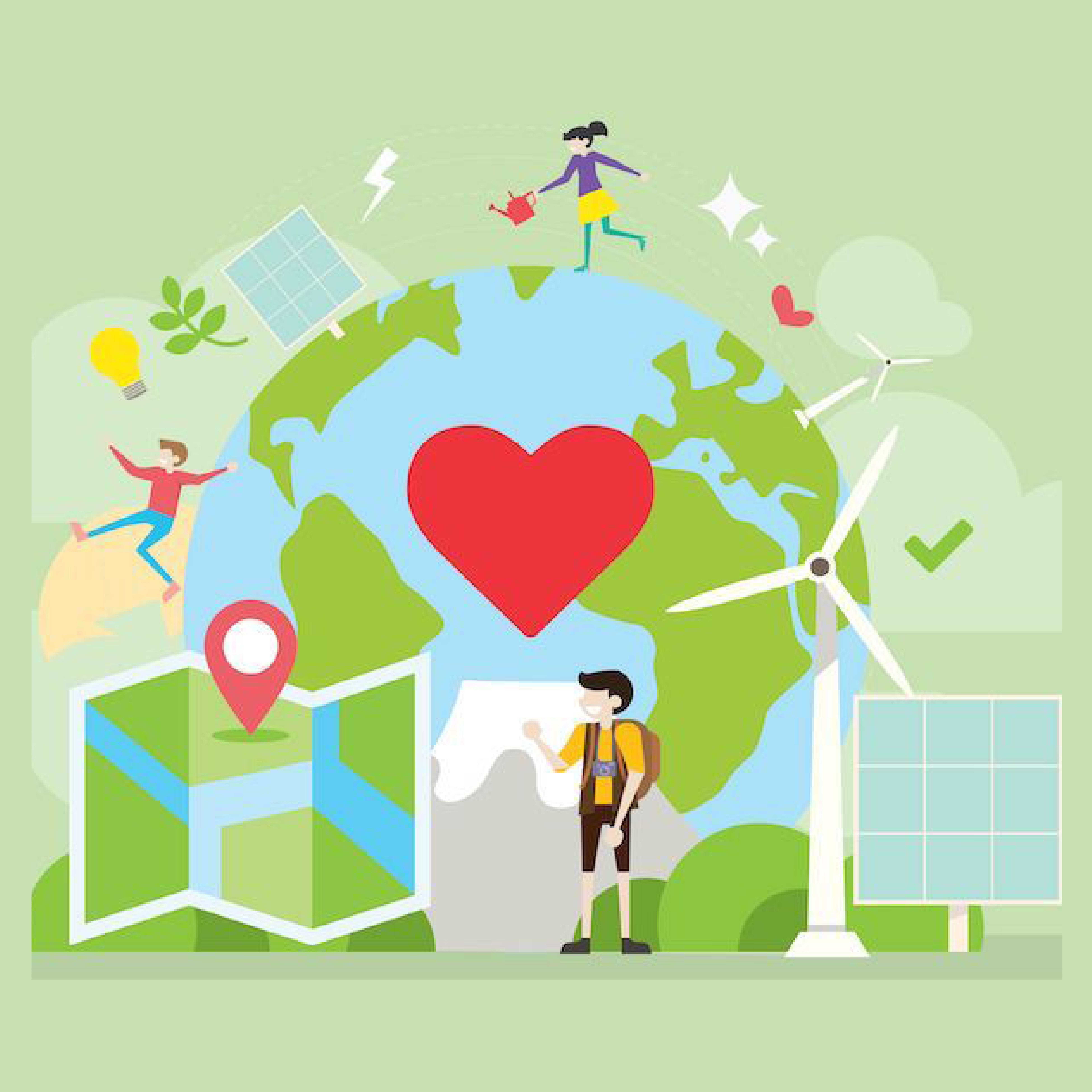 Sustainable Travel in a Post-COVID World
---
As countries all over the world slowly emerge from the restrictions imposed by the pandemic, many of us, including our team here at CollectiveSun, are chomping at the bit to travel again! Countries are lifting travel limitations, airports are filling up and cities around the world are seeing tourists walking the streets. But some of you may be wondering if there is a way to travel in a conscientious way, to do things to minimize your carbon footprint, and maybe even capitalize on the benefits of renewables.
The issue is worth considering. The impact of tourism on the world has been profound, and not always for the better. Air travel accounts for 8% of global emissions, holiday resorts can leave a significant footprint on the lands and water supplies, and travelers have a long-term effect on local economies. Tourism can stress sensitive locations around the globe and climate change threatens some of the planet's most prized beaches, islands and coral reefs. 
Traveling sustainably, also known as eco-tourism or green travel, means doing so in a way that looks to respect the local environment, culture, and economy. Ideally, it should minimize the adverse effects of tourism and benefit the area in which it takes place. There are two main tenets to ecotourism: reducing our impact on the environment and wildlife when traveling and supporting the local people and businesses that we encounter. Sustainable travel can even mean choosing options that tap the power of renewable energy.
There are a number of things you can consider when looking to travel green.
Eco-Conscious Transportation
Given that 90% of energy consumption in tourism today is spent on transportation, you may try considering the most sustainable option when looking at how to get to and around your destination: airplane, car, train, or otherwise. There are US airports and airlines working to reduce their emissions by replacing equipment with electric and solar-powered technology. Airports in New York City, Washington state, Chicago, and Boston have partnered with airlines like JetBlue and United to use electric-powered equipment and charging infrastructure, and airports in Chattanooga and Indianapolis have solar farms. JFK, LaGuardia, and Newark Airports have converted a significant number of their shuttle buses to electric while JFK has begun work on the largest solar+storage system in New York state.
Packing light with reusable gear and flying direct and economy help minimize your carbon footprint. You can also look into airlines, like British Airways and Virgin, that give passengers the option to offset their carbon emissions by donating to environmental projects. Adventure Travel Trade Association has partnered with  Climeworks, a company that converts carbon to stone, to offer a carbon removal platform aimed at travelers.
Green Lodging and Leisure
Something else to consider is activities and accommodations that use renewable energy. For example, an 800-meter outdoor swimming pool in Glamsbjerg, Denmark has used solar pool heating since 1989, and the Tortoise Head Guest House in Victoria, Australia generates all of its power from a remote power wind and solar hybrid system. Pulau Lakei is an island near Malaysia that operates on PV solar+storage, and the Manau Lani Bay Hotel in Hawaii has an 11 kW PV solar system that displaces the use of 14,500 barrels of oil every year. There are many destinations like these around the world that use renewables or are green certified.
Additionally, thoughtfulness about how you interact with the local population and wildlife makes a difference. Using green tour operators is helpful, as is putting your dollars into the local economy by eating at and staying at a locally owned place. Being polite and gracious to the locals and dressing appropriately in conservative countries is always a good idea. It helps to patronize local businesses and buy souvenirs directly from the craftsperson or cooperative to avoid the middleman. Finally, responsible wildlife tourism is always preferable, including diving and snorkeling that is sensitive to the ecosystem.
Traveling with COVID in Mind
Last, but certainly not least, do your due diligence and take COVID transportation and destination regulations into account for your trips. It's tempting to dive right back into the beautiful world that we work so hard to sustain, but we should also be mindful of those who have not been fully vaccinated. With vaccination rates slowly growing, it's up to all of us to keep everyone healthy and our world green!
Stay informed with news from the CDC regarding safe domestic and international travel. So, now that you are finally able to travel again can you align your desire to care for the world and its people with the choices you make? Given the plethora of sustainable options resulting from the host of businesses and individuals around the world looking to address our climate crisis, the answer is a resounding yes!
If you are a Nonprofit organization interested in learning more about solar, or are looking to launch a solar project with a Nonprofit organization, please contact our VP of Sales, Matt Brennan who can answer any of your questions.
Matt can be reached at mbrennan@collectivesun.com or 619-838-7363.