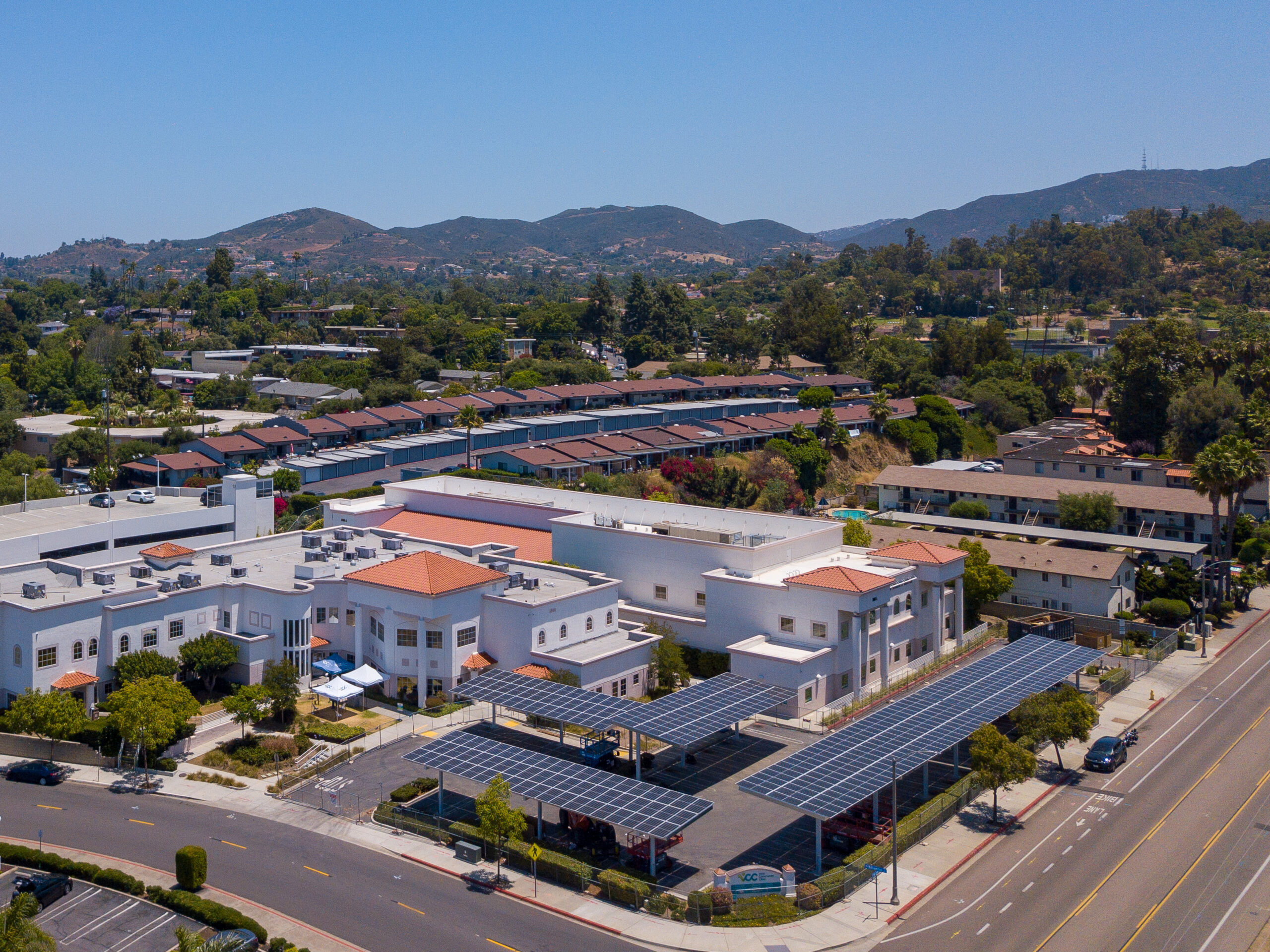 Vista Community Clinic Goes Solar with Help from the SunForAll Solar Fund
---
Affordable healthcare provider Vista Community Clinic recently received a grant to build a solar system from the SunForAll Solar Fund, a new solar funding program for nonprofits created by CollectiveSun and BQuest Foundation. The fund allows qualifying organizations in San Diego and Imperial Counties to receive 100% funding for going solar, which includes a 30% discount on the total cost of a solar system installation.
Located in Vista, CA, Vista Community Clinic provides the area's underserved communities with access to premier health services and education. VCC, working with solar contractor M Bar C Construction, is currently adding a 419kW rooftop and carport solar system to their facility that is partially funded by the SunForAll Fund. In an interview with Michele Lambert, Chief Financial Officer at VCC, she shared about the organization's history and its longtime commitment to the health and well-being of the local communities. She also discussed what motivated VCC to make the leap to solar and what it was like to work with SunForAll, CollectiveSun and BBQuest.
Can you share the story behind Vista Community Clinic?
Vista Community Clinic (VCC) was founded in 1972 in Vista, California, to provide critically-needed health services to underserved populations in San Diego North County. There was a clear need that wasn't being met in the community, and local advocates were determined to change that. The first location VCC established was in the basement of a local animal shelter in 1972. VCC was able to grow over the years to become the health care safety net for the poor and uninsured, giving them access to the high quality health services that they needed and deserved. Today VCC is recognized as a key regional health provider with nine state-of-the-art clinics treating more than 69,000 patients each year. Our innovative model of community health provides low cost, high quality health care to the residents of San Diego, Riverside and Orange county communities.
What are the main issues that the Vista Community Clinic focuses on?
VCC focuses on the health and wellbeing of the communities they serve, and beyond. Patients of all ages and stages of life are welcome and encouraged to access the care that we provide. With a wide range of services, VCC provides something for everyone in need, with the goal of creating a community where everyone has the opportunity to grow to his or her highest potential and thrive. Some of our services include: Adult and Pediatric Medicine, Chiropractic Care, Behavioral Health, Insurance Enrollment, Youth Programs, Social Support, and Medical Assistant Training and Education.
What inspired this commitment?
Simply put, basic needs inspired our origins and the commitment we stand by to this day. VCC was created by the community for the community. VCC's pioneers understood what a struggle it was for so many local residents to get the care that they so desperately needed for themselves and their children. Over the years, as the organization grew and was able to take on more patients, its doors have only opened wider. In the ongoing fight to give healthcare access to all, VCC continues to expand its reach into further neighborhoods and families at every opportunity.
How is the Vista Community Clinic connected to the greater San Diego community?
VCC is connected to the greater San Diego community through the services it provides. We partner with local governmental agencies, fellow healthcare providers, and many private businesses and agencies to advance community health, both at a macro level and to the individual residents of our communities. The San Diego community is where a large majority of our patients reside – it is made up of our neighbors, friends, family, and staff. VCC recognizes that we are all connected through the communities we share, and that it is in our best interest to work together to protect the health and wellbeing of those communities. We provide services both inside the clinic and outside in the community to ensure that we are reaching those who are held back by barriers like transportation and language.
What sparked your organization's interest in renewable energy and sustainability?
VCC has been interested in solar energy for some time, from both an "environmental impact" perspective as well as an "organizational health" perspective. Recognizing the positive impact that solar energy could have on both these factors, we performed a detailed analysis on two of our largest "energy using" facilities back in 2015, deciding at that time to move forward with solar energy at our administrative offices in Vista. We also had a desire to implement solar at our flagship clinic site in Vista, but the cost involved delayed that project. In 2019, we were able to move forward with that project due in large part to a generous donation offer from BQuest Foundation.
Our organization uses a great deal of power to ensure that services are available for our more than 69,000 patients every year, and having the ability to do this while lessening our impact on the environment and lowering our costs was the right decision to make. As a part of the community and with a vested interest in our youth, VCC wants to make sure it is doing all that it can to leave behind a world that is healthy and stable for future generations – and to leave behind a healthcare organization that is as financially stable as possible. It has been said that widespread use of solar energy reduces some health issues, and we are excited to be a part of something that has such potential.
What motivated you to work with SunForAll, CollectiveSun and BQuest?
SunForAll was brought to our attention by individuals we worked with during the implementation of solar at our administrative facility. While working with CollectiveSun and BQuest, we have certainly enjoyed the collaborative efforts and shared desire for the most benefit for all parties involved.
What outcome of SunForAll and solar energy are you most excited to see develop?
We are excited to see how much less non-renewable energy we use as a clinic, both to positively impact the environment and our bottom line! As a federally funded healthcare center every penny counts, and the solar energy that we will benefit from will help us save money on energy costs. These savings can then be used toward our patients and care services, helping VCC to continue providing top quality care.
How do you see your decision to go solar impacting your organization and community?
VCC is somewhat of a landmark in the area, and we are hoping to set a good example for our community and patients. The organization is a big advocate for health education, and this is just another piece of that puzzle. Although our solar panels won't be able to diagnose anyone or write a prescription, they will be a symbol for what we stand for – innovation, health, and empowerment. As I mentioned above, we also see this decision helping our bottom line, allowing for us to better use money that once went to electric costs.
How do you see solar energy impacting our greater San Diego community?
Solar energy in general has the potential to make a big impact on the greater San Diego community through health and financial benefits. As more and more people move to solar, we will start to see the positive effects it will have on the air that we breathe and the land that we use. As an affordable healthcare center we are also very aware of the effects that financial burdens have on our patient population and believe that solar energy can do a great deal to help alleviate some of the stress that utility bills bring on our communities.
Looking forward, what are your goals for the Vista Community Clinic and how has SunForAll helped?
Our overarching goal at Vista Community Clinic is as stated in our Vision Statement – to advance health and hope for our community. SunForAll has helped by moving forward something that will have a positive impact on our financial position!
"

Although our solar panels won't be able to diagnose anyone or write a prescription, they will be a symbol for what we stand for – innovation, health, and empowerment

."