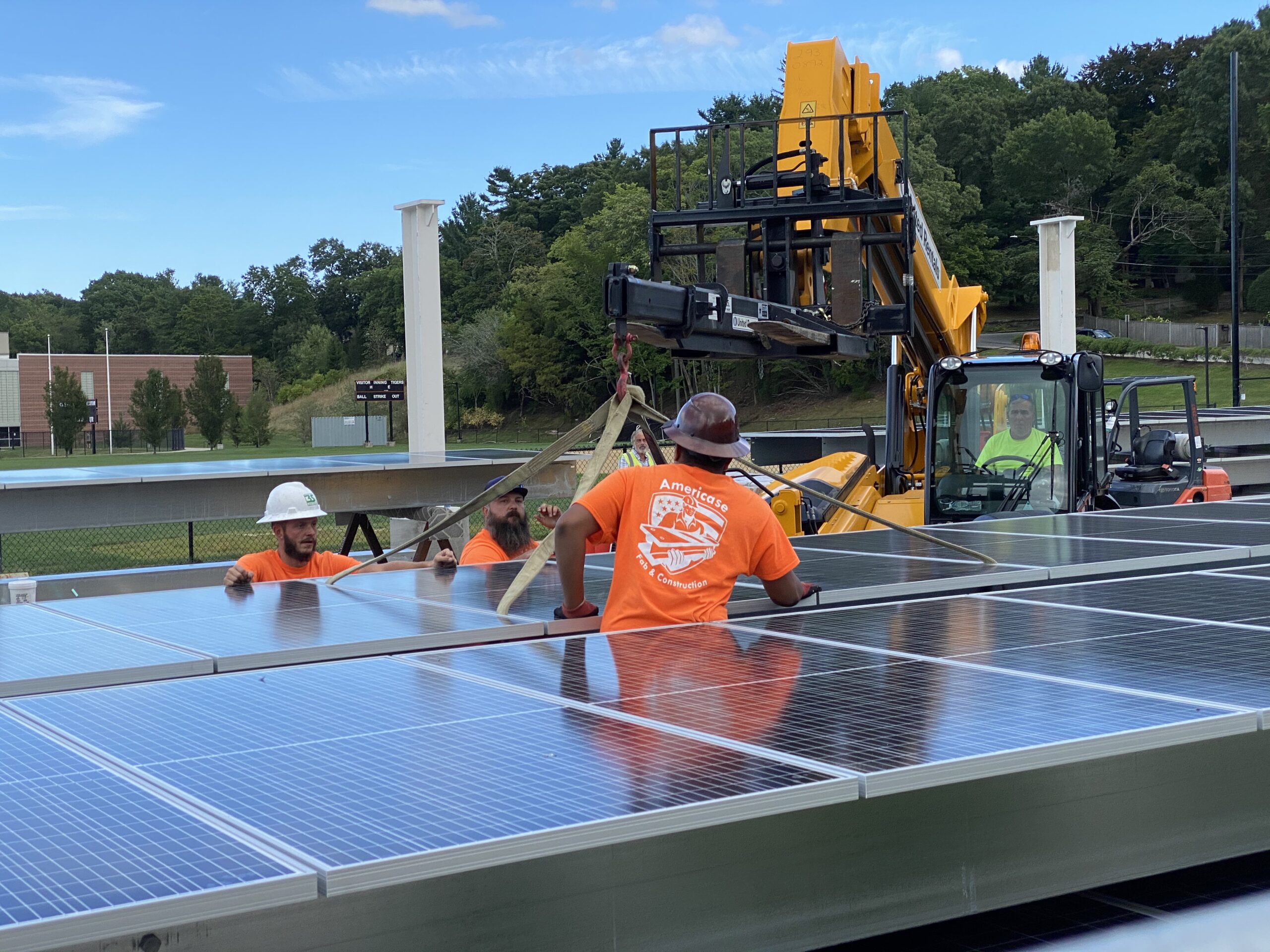 Why You Need Builder's Risk Insurance for Your Solar Project
---
Almost everyone has some kind of insurance, if not several types. You almost certainly have health insurance, and if you own a car or a home you typically insure those as well.
There's another kind of insurance that you may not have heard of: builder's risk insurance. Although often overlooked, it's one of the most essential types of insurance in the construction industry — including solar project construction.  
Many solar project developers are unaware of this insurance. Some contractors know about builder's risk insurance but don't think they need it. But when something goes wrong during a solar construction project, they see firsthand how important it is to be insured.
What's builder's risk insurance?
Builder's risk insurance, also known as "course of construction" insurance, is a property insurance. It helps protect solar projects while they are under construction, which is a critical period for any project. During this period, the project is not yet covered by a property policy, leaving it especially vulnerable.
A solar construction project has many moving parts, including equipment, materials, and people — both contractors and subcontractors. The building owner may not even know all the parties involved. These complexities open the opportunity for something to go wrong.
In addition, during the construction period for a solar project, it's not always clear who owns the equipment and materials. At this stage, those items are not owned by the building owner where the solar is being installed or by the installers. This creates a gray area that can lead to issues if there's any damage or loss of materials or equipment. 
During the critical construction period, a builder's risk policy typically covers both the property and the materials at the solar construction site, and it may also protect any project materials and equipment that are off-site, in storage, or in transit. It may even protect the "soft costs" of a project, such as labor and financing costs or loss of income. Because not all policies cover each of these types of losses, it's important to request the specific coverage you need for your project. It's essential to ensure that the project materials and equipment are protected at all stages of the project.
One common question about builder's risk insurance is who pays for it. While this varies among projects, purchasing builder's risk insurance is generally the contractor's responsibility for a solar project. 
CollectiveSun requests builder's risk insurance for all SPAs and leases to protect the equipment when it is on site but not yet installed, in transit, and in storage. For our loan product, we strongly recommend that our nonprofit customers consider the benefit of adding builder's risk coverage to their solar projects.
Regardless of who pays for builder's risk insurance, it's a manageable cost for most businesses. Because commercial-scale solar projects take just days to weeks to build, these are short-term policies; they don't require buying a year's worth of insurance. And most builder's risk policies cover the full value of the project, making the expense well worth the peace of mind they provide.
The importance of builder's risk insurance
Most solar projects go smoothly, but various situations can arise during construction that would be a problem without builder's risk insurance. Materials can be lost or damaged during shipping. Batteries or solar panels can disappear from storage or the project site. Fires, earthquakes, or severe weather can damage a project during construction. The pandemic presented a huge unanticipated project risk in the form of both materials and labor disruptions. 
By their nature, construction projects are particularly vulnerable to vandalism, theft, and natural disasters — and that's as true for solar projects as for other types of construction projects. We have seen graffiti on solar panels, panels damaged by storms, and even stray bullets landing on panels. 
We have heard about a serious weather-related incident that occurred with a project being installed on a commercial rooftop using a ballasted system. The solar array was halfway installed when a large, unexpected gust of wind shook multiple panels that were not yet fully in place loose. The panels cartwheeled around the roof, damaging both the rooftop and the already-installed panels. Dozens of panels flew off the roof and landed in the parking lot. In total, over 1,000 panels were destroyed.
These types of issues can delay or derail a project. Any project delay, whether it's caused by materials being lost or damaged, or by a subcontractor failing to show up, can put your project at risk of losses and/or increased costs. Builder's risk insurance helps prevent a project from grinding to a halt if damages or losses occur during construction.
Beyond keeping a project on track, builder's risk insurance can help it take off in the first place. A builder's risk policy makes it easier for developers to acquire funding for a project, because financiers will have more confidence in a project that carries this insurance.
Selecting the right insurance
Because of the critical nature of builder's risk insurance and the specific considerations for solar projects, selecting an insurance company with experience providing these policies for solar construction projects is crucial.
Brown & Brown's Energy & Climate Technology Team is one insurance company that specializes in energy projects of all kinds, including solar and storage. National specialists in the energy and climate tech space, they write some of the largest insurance policies for residential and commercial solar developers across the U.S., and they have extensive experience with builder's risk insurance for solar projects. 
"Builder's risk insurance can help ensure your project is completed," says Rob Freeman of Brown & Brown's Energy & Climate Technology Team. "If something happens to your solar equipment while your project is under construction, you run the risk of it not being completed if you do not have builder's risk insurance. If something happens that is not the contractor's fault, you may not have recourse to replace the value of the system. Whether you're a nonprofit or a contractor, you should consider having this insurance in place during construction."
How CollectiveSun protects nonprofits
CollectiveSun looks out for our nonprofit partners by recommending and often requiring builder's risk insurance of the contractors we work with. It's important to us to ensure that each project goes smoothly and that you're protected against any unforeseen issues. Making our nonprofit partners aware of the importance of builder's risk insurance is just one of the many ways we help ensure that projects are successful.
We're always here for you. If you have questions about builder's risk insurance and what's covered, don't hesitate to reach out to us.