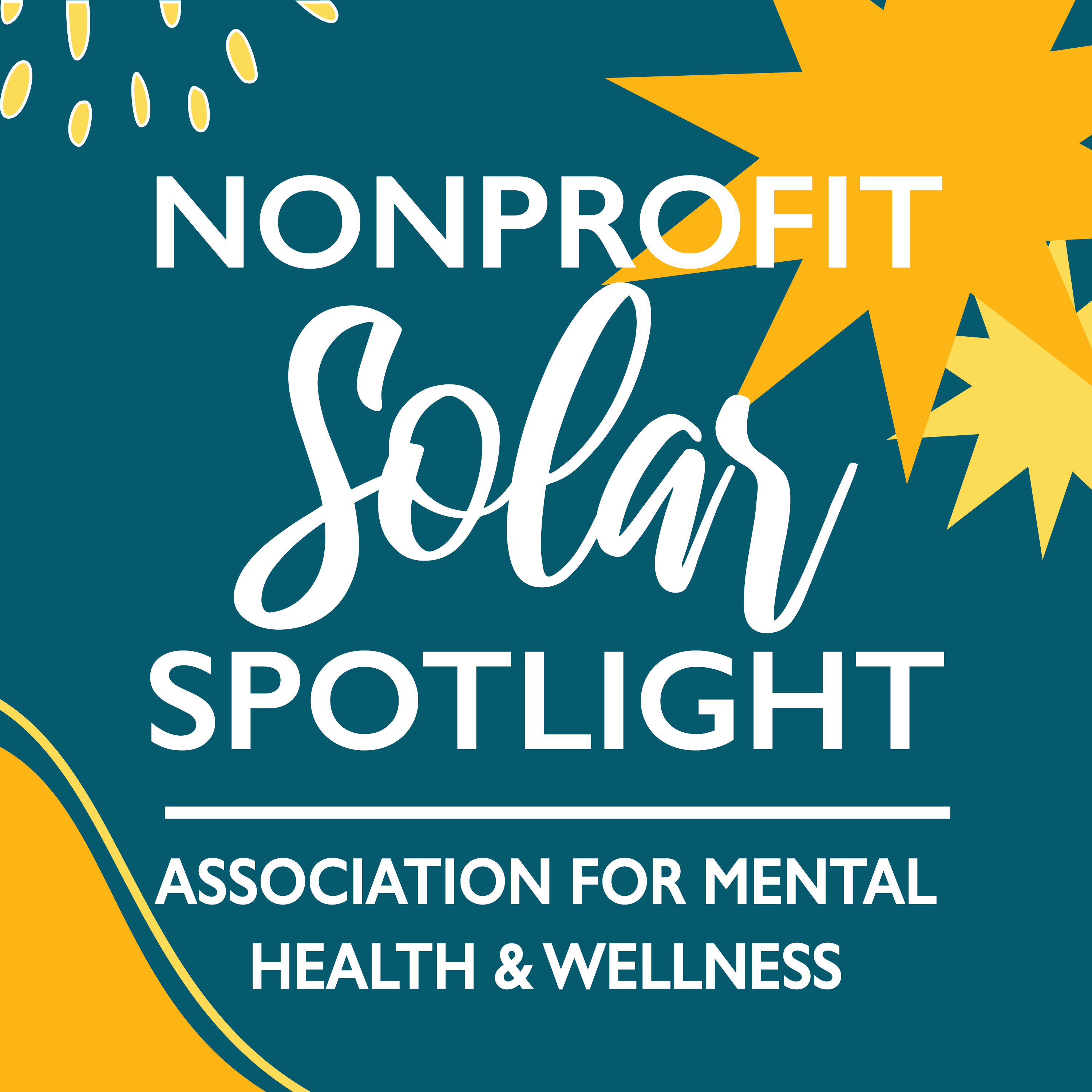 Nonprofit Solar Spotlight: Association for Mental Health & Wellness
---
Our team at CollectiveSun is continually awe-struck and inspired by the nonprofits we serve! These solar-inspired nonprofit organizations are leaders in their communities in so many incredible ways, but are also proof of the lasting economic, social and environmental impact that renewable energy generates.
The Nonprofit Solar Spotlight is our monthly series celebrating the nonprofits we work with who choose to go solar in order to achieve financial and environmental sustainability for their organization. This year we've talked to five nonprofits: Congregation Shaarei Tefillah in Massachusetts, Our Savior's Lutheran Church in California, the Museum of Photographic Arts and New Milford United Methodist Church in Connecticut, and St. Peter's Episcopal Church in Massachusetts. Our sixth solar champion is the Association for Mental Health and Wellness (MHAW) in Ronkonkoma, New York.
We spoke with Colleen Merlo, CEO of MHAW. She shared all about the organization's programs and services, what solar has meant for them and their community, and the unique advantages of going solar with CollectiveSun.
Please share the story behind the Association of Mental Health and Wellness.
The Association for Mental Health and Wellness is a large, well-established multi-site nonprofit behavioral health organization. We're licensed by the Office of Mental Health, and our mission is to empower and inspire people of all communities to identify, pursue and sustain healthy and meaningful lives. We serve more than 3500 clients annually throughout Suffolk County, with four locations in Riverhead, Yaphank, and Ronkonkoma. 
We have a full range of person-centered recovery and wellness-driven programs, which include veterans and children, and adults affected by psychiatric disabilities, trauma, and complex health conditions. We focus mainly on a few service areas which are community education and support, psychiatric rehabilitation and support, and care coordination and service engagement. Lastly, our Suffolk County United Veterans Program encompasses our veterans arm of the organization. 
We are the product of a merger of three distinct organizations that came together in 2014. These organizations were Clubhouse of Suffolk, the Mental Health Association in Suffolk, and Suffolk County United Veterans. There were unmet behavioral healthcare needs of veterans which is why Suffolk County United Veterans was looking for a mental health partner. The Association for Mental Health and Wellness was born out of that merger. 
We have always focused on advocacy and being a voice for moving the needle around policies throughout the region and the state, and it's something that we continue to do because there's just so much need that goes unmet. It's vital that we push for improved access to care and other social justice issues. Although we're a large organization now, we hold true to some of the grassroots ideas that started us in terms of our advocacy and our drive to be reaching into the community. 
What are the main issues that MHAW focuses on, and what inspired this commitment?
We look to uphold and embrace opportunities to create equity and maintain a diverse organization. We support social and emotional wellness for all people in all communities. We're considered a midsize nonprofit right now, but we truly started as a grassroots movement in response to community needs, whether for veterans or for people living with mental illness. Even though we're larger now we still pride ourselves on being nimble and responsive to the community needs. We continue to be a regional voice and a leader in our advocacy efforts.
How is MHAW connected to the greater New York and Long Island community?
In a couple of ways. First, we are an affiliate of both National Mental Health America and the Mental Health Association in New York state. So we routinely connect on a regional and national level with advocacy efforts and with education and training. We also connect with our community through partnerships with school districts, businesses, faith-based institutions, civic associations, and other community-based nonprofits. 
It's really vital that we connect with people who may never think they need our services. This is because our goal is to have everyone focusing on their emotional wellness, and for people to know where to turn for support. The truth of the matter is, one in five people in a given year will have a mental health concern. We want people to be focused and in tune so that they recognize the early warning signs of a mental health issue and we look to build skills that will help them stay healthy. That's really important now given the stress and strain that we've all been under, in response to not only the global pandemic but to the social unrest and racial trauma that has been exposed for all of us to see. 
" We need lights. We need to carry out our mission and have a building that is safe and welcoming. But money spent on energy costs is money that we're not spending on providing psychiatric rehab services or educating students in a classroom about emotional health.

 

"
What sparked the Association of Mental Health and Wellness's interest in renewable energy and sustainability?
First and foremost, we're always looking to reduce costs, especially costs that are kind of ancillary to our mission. We need lights. We need to carry out our mission and have a building that is safe and welcoming. But money spent on energy costs is money that we're not spending on providing psychiatric rehab services or educating students in a classroom about emotional health. We want our funds spent on helping veterans and individuals with chronic health conditions, not on heating and lighting the building.
But it wasn't just about the money. We also know that the environment and emotional wellness are interconnected, and if we're not looking at that then we're really narrowing the impact of our mission. We know there are benefits for people to be within nature and have nature-based solutions. It's important to not only deliver on climate and biodiversity and health but to also scale up in a cost-effective way to avoid health impacts. 
We know that the negative health impacts of climate change affect communities of color and poorer communities in an unequal way. Our mission is to mitigate some of those stresses on the individuals that we serve because a lot of them do end up being in poverty. So from a social justice perspective, we really wanted to look at that as well. Furthermore, many of the people that we serve do have complex health conditions that can be exacerbated by environmental factors like asthma, for example,
One of the other factors that played into our initial thinking about solar energy was that we wanted our building to be seen as a safe place where people could come if they needed to shelter in place. With the addition of solar energy, we are actually a FEMA certified Shelter in Place location now, so it gives us the opportunity to again be that beacon of hope for the community, not only for the people that we are currently serving but for people who might be negatively affected by a natural disaster and need to seek shelter. The solar panels are going to provide energy to our generators so that we can power the building if that were ever needed in an emergency. That was a piece of what went into us considering solar as well.
How does your organization's going solar impact your mission and focus on social issues?
Going solar really does reinforce our commitment. It helps our employees and those we serve to be more mindful about their environmental impact. In the future, we hope to leverage that more through education and training about how the environment and mental wellness are interconnected. 
Though our solar project is fairly new, people are excited about it and are asking questions. And so we're using that as an opportunity to talk about the reasons why, from a social justice perspective, we look to have a positive impact. The World Health Organization estimates that climate change is going to cause an additional 250,000 deaths per year from 2030 to 2050. I don't think that this small project is going to make a dent in that number, but I do think that the more people who choose clean, renewable energy, the better chance we have of making a difference.
What motivated you to pursue the CollectiveSun ownership model? 
One of the reasons why we looked at the CollectiveSun ownership model was that it gave us the ability to utilize a unique structure to fund the project. It made solar affordable and reduced the overall costs through the tax credits that were able to be applied. The question was, are we going to spend this money up front when we really need to be spending it on our programs? The answer was no. CollectiveSun gave us an alternative. 
We are most excited about the fact that solar is a renewable energy source. We're truly having a positive impact on our environment, which translates into a positive impact on the communities of the people that we serve.
What parts about working with CollectiveSun have you enjoyed the most?
I think it's the opportunity to be part of the solar movement. We wouldn't have been able to do that had we not found CollectiveSun and this unique funding model. 
What are some of the things you've learned along the way?
We learned that, like with any construction project, there is a lot that goes into it. We needed to learn to be patient and let the process kind of roll out. There were some studies that needed to get done that were delayed. We were doing this project when COVID was a factor and so there were delays. I think we needed to learn to slow down and really have patience with the process. We also learned a lot about how solar works and how electric works. It's been a fun learning process.
Looking forward, what are your goals for MHAW and how will solar play a role in achieving those goals?
Our goals are to be in the community, having an impact helping people and supporting people who may have been affected by isolation and grief and loss as a result of COVID. Solar is going to help us do that because we're going to save money over the long term, and we can invest that into community programs. 
We're also looking to help people understand the impact of the environment on their mental health. I think that in order to be a reputable organization you need to show that you have a commitment to that, and solar energy is one piece of our portfolio showing that we do. It includes our community wellness and healing garden, which grows organic food that we then put back into the community. So we're doing things to help people understand how we interact with the environment and to get people back in touch with nature and with climate.
Anything that you would want to tell a nonprofit who might be considering going solar?
I think that if anyone is considering a solar project they should look at their options and think about what makes sense. Cost was one of the things that didn't make sense when we were thinking about solar at first. Then when we found CollectiveSun we were able to pull the pieces together and make it work. Additionally there are grants out there to fund projects like this, and so I encourage people to not let cost be a barrier. In the long run, the cost of climate change is greater than the monetary costs.
About the Association for Mental Health & Wellness
"Empowering people and communities to pursue and sustain healthy and enriched lives."
Association for Mental Health & Wellness Goals
As the local chapter of Mental Health America and of the Mental Health Association of New York State, it is our mission to drive evidence-based practices, information, education, and resources to the residents of Suffolk County.
We believe mental health is as important as physical health, and it is our goal to ensure that all of our local needs and voices are heard and recognized by government leaders, the business community, advocacy groups, and educational organizations in our region.
Learn more about the Association for Mental Health & Wellness!
About Colleen Merlo
An experienced, dynamic, and committed non-profit leader, Colleen Merlo has worked for more than twenty years in the not-for-profit sector, focusing on issues of violence, mental health, gender equity, and poverty. She is the CEO of the Association for Mental Health and Wellness (MHAW), where she provides strategic leadership to the organization. Prior to assuming the leadership of MHAW, Colleen served as Executive Director of L.I. Against Domestic Violence, which provides an array of support services to both male and female victims of domestic violence. Before that, she was Executive Director of the Mental Health Association in Suffolk County where she provided direction to drive the mission and vision. 
Colleen earned a master's degree in Social Work at SUNY Stony Brook's School of Social Welfare and a bachelor's degree in Forensic Psychology from the John Jay College of Criminal Justice in New York City. She was honored two consecutive years by Long Island Business News, receiving the Top 50 Women in Business award in 2019 and the Non-Profit Leadership Excellence award in 2020.
If you are a Nonprofit organization interested in learning more about solar, or are looking to launch a solar project with a Nonprofit organization, please contact our VP of Sales, Matt Brennan who can answer any of your questions.
Matt can be reached at [email protected] or 619-838-7363.