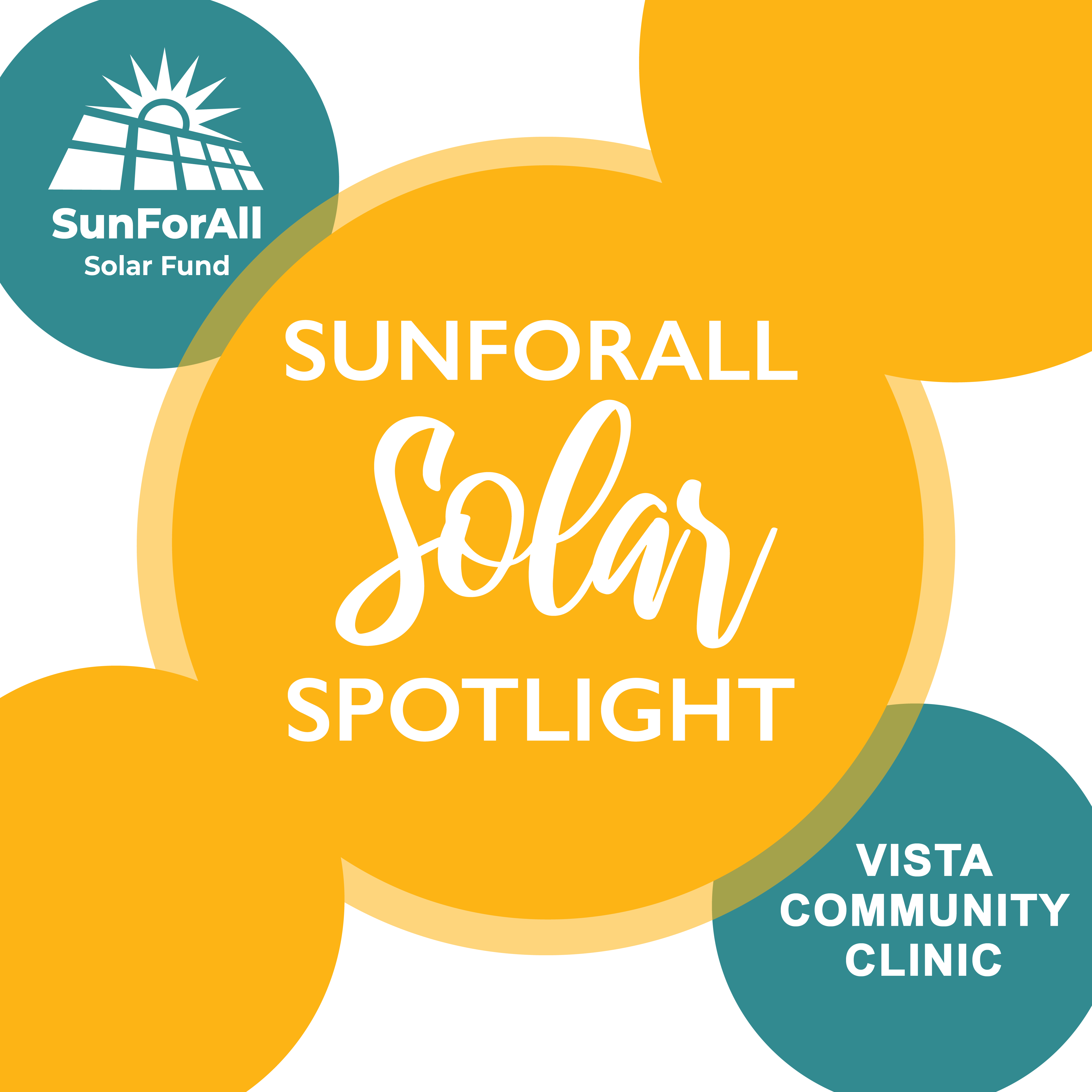 SunForAll Solar Spotlight: Vista Community Clinic
---
CollectiveSun is constantly inspired by nonprofits that choose solar energy! These organizations are the true leaders in our communities, serving as examples to other nonprofits and their communities of how to operate in a way that tackles climate change and lowers their day-to-day expenses.
The new SunForAll Solar Spotlight series honors the nonprofits that have chosen to go solar with the SunForAll Solar Fund, to achieve financial and environmental sustainability. For our first feature, we focus on Vista Community Clinic (VCC) in California.
VCC provides quality healthcare for underserved communities in the San Diego area. We interviewed VCC's Chief Financial Officer Michele Lambert as a follow up to an earlier discussion with Michele about VCC's solar journey as a recipient of the SunForAll Solar Fund. This time Michele discussed the impact of the solar installation, the organization's future goals, and what it was like to go solar with the SunForAll Solar Fund.
Join Vista Community Clinic, BQuest Foundation, and CollectiveSun on Thursday, September 30th for our exciting webinar – The SunForAll Solar Fund: A $10 Million Investment in Nonprofits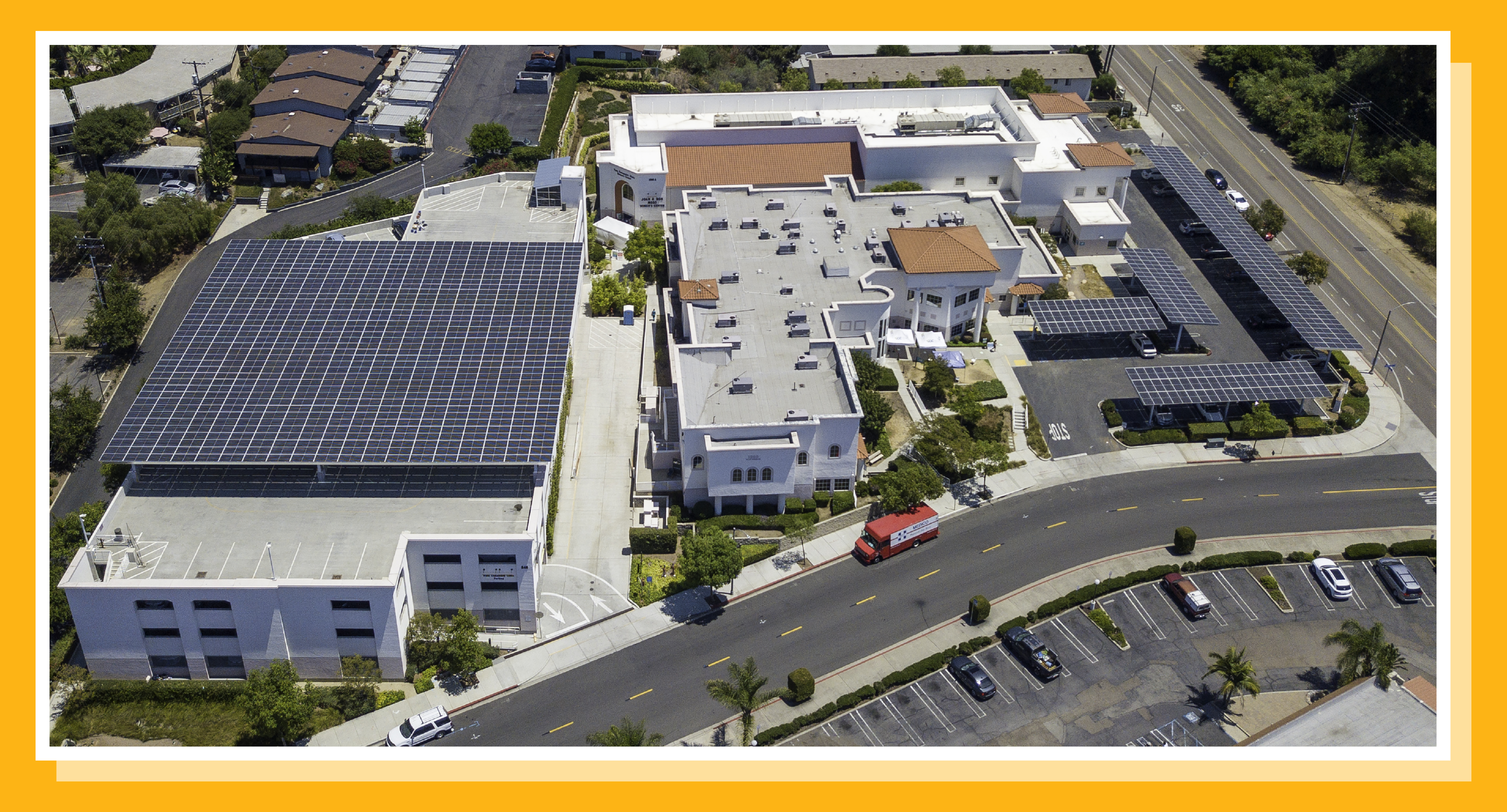 PLEASE SHARE VISTA COMMUNITY CLINIC'S PROGRAMMING AND CORE VALUES.
Vista Community Clinic provides low cost, high quality health services to underserved populations in San Diego, Riverside and Orange County. We currently have nine clinics treating more than 69,000 poor and underinsured patients annually. Our services include Adult and Pediatric Medicine, Chiropractic Care, Behavioral Health, Insurance Enrollment, Youth Programs, Social Support, and Medical Assistant Training and Education.
We have a broad number of self education programs that affect subsets of the communities. VCC has health promotion programs ranging from HIV care and youth services to mentoring and after school programs in high risk communities. We offer parenting classes, including some nationally recognized fathering programs, as well as diabetes management and breast cancer programs. VCC really seeks to be invested in the life of someone in need from the time they're born and throughout their entire life.
Central to our mission is addressing health disparities and being able to welcome patients of all ages and stages of life. Our goal has always been to create a community where everyone has their basic needs met and has the opportunity to reach their highest potential. In an effort to make quality and affordable healthcare available to all, VCC seeks to expand its reach into additional neighborhoods and help more families at every opportunity.
HOW IS VCC CONNECTED TO THE GREATER SAN DIEGO COMMUNITY?
We partner with government agencies, fellow healthcare providers, and many private businesses and agencies to forward community health in the area. In San Diego there isn't a county safety net. Therefore, our government really relies on community health centers in San Diego County to provide healthcare to folks who need it. A vast majority of our patients reside in the San Diego community, and at VCC we recognize that we're all connected through the communities we share.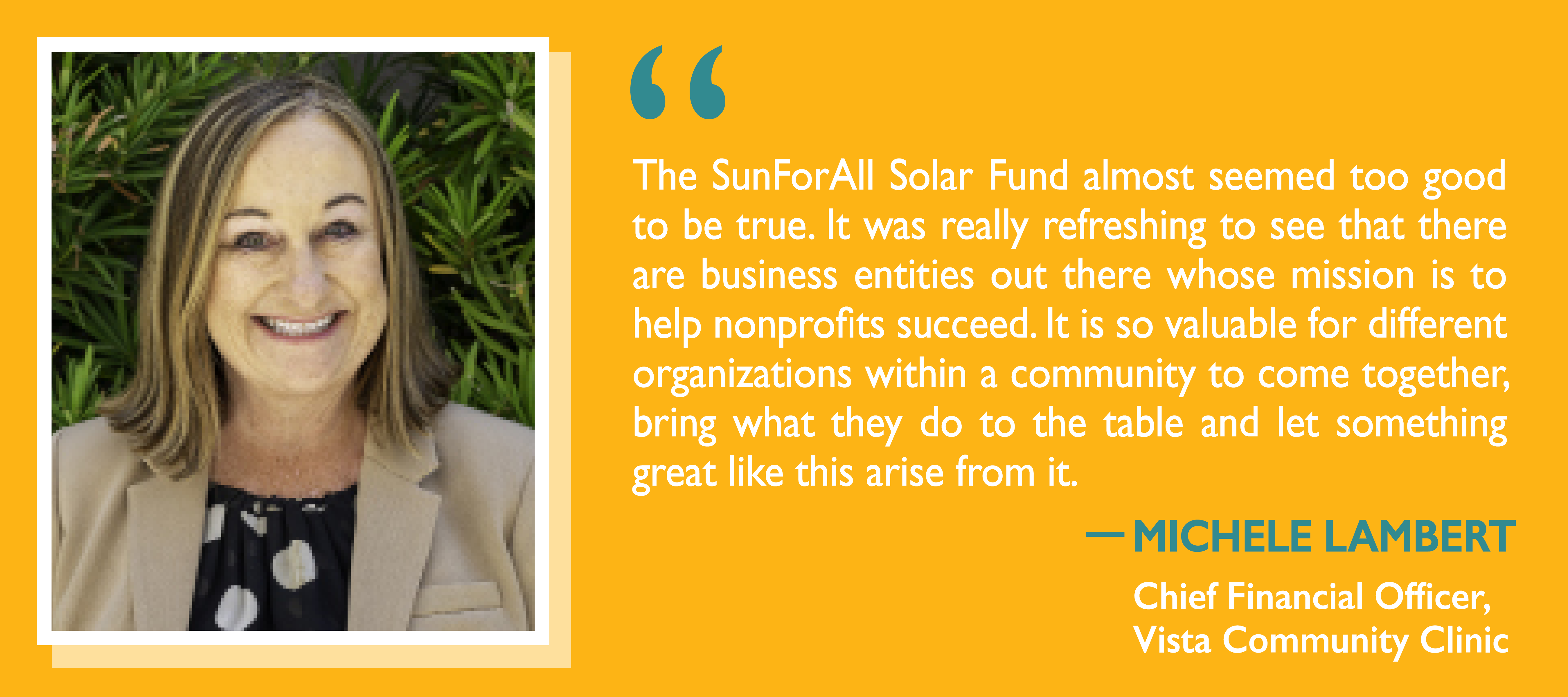 HOW DOES RENEWABLE ENERGY ALIGN WITH VISTA COMMUNITY CLINIC'S MISSION AND VALUES, AND WHAT HAS BEEN THE IMPACT OF THE INSTALLATION?
Our goal is to use all the funds that we've been stewarded with to advance the well being of the communities that we serve. Renewable energy is good for the environment, and we're all about what's good for the environment. Also, from an organizational health perspective, we can devote more funds to expanding programs and services to the people who need them.
The solar project went live in January, and the direct savings we're experiencing is almost $9,000 per month, a 50% decline in our energy costs. So, it's pretty significant. Every extra dollar that falls to the bottom line is a dollar we can invest in expanding services.
HOW DID YOU HEAR ABOUT COLLECTIVESUN, AND WHAT DREW YOU TO WORKING WITH THE SUNFORALL SOLAR FUND?
We had been talking to an installation firm about putting in the solar, and in that process they introduced us to both CollectiveSun and BQuest Foundation. So the available funds were brought to our attention at that time. We were drawn to working with them because they all seemed really interested in helping us. They had a very altruistic bent.
Getting a facilities project done is not something we see very often, and their desire to partner with us to make it happen, help us to actually fund it from the discount and partial grant to the financing, really kind of sealed the deal for us.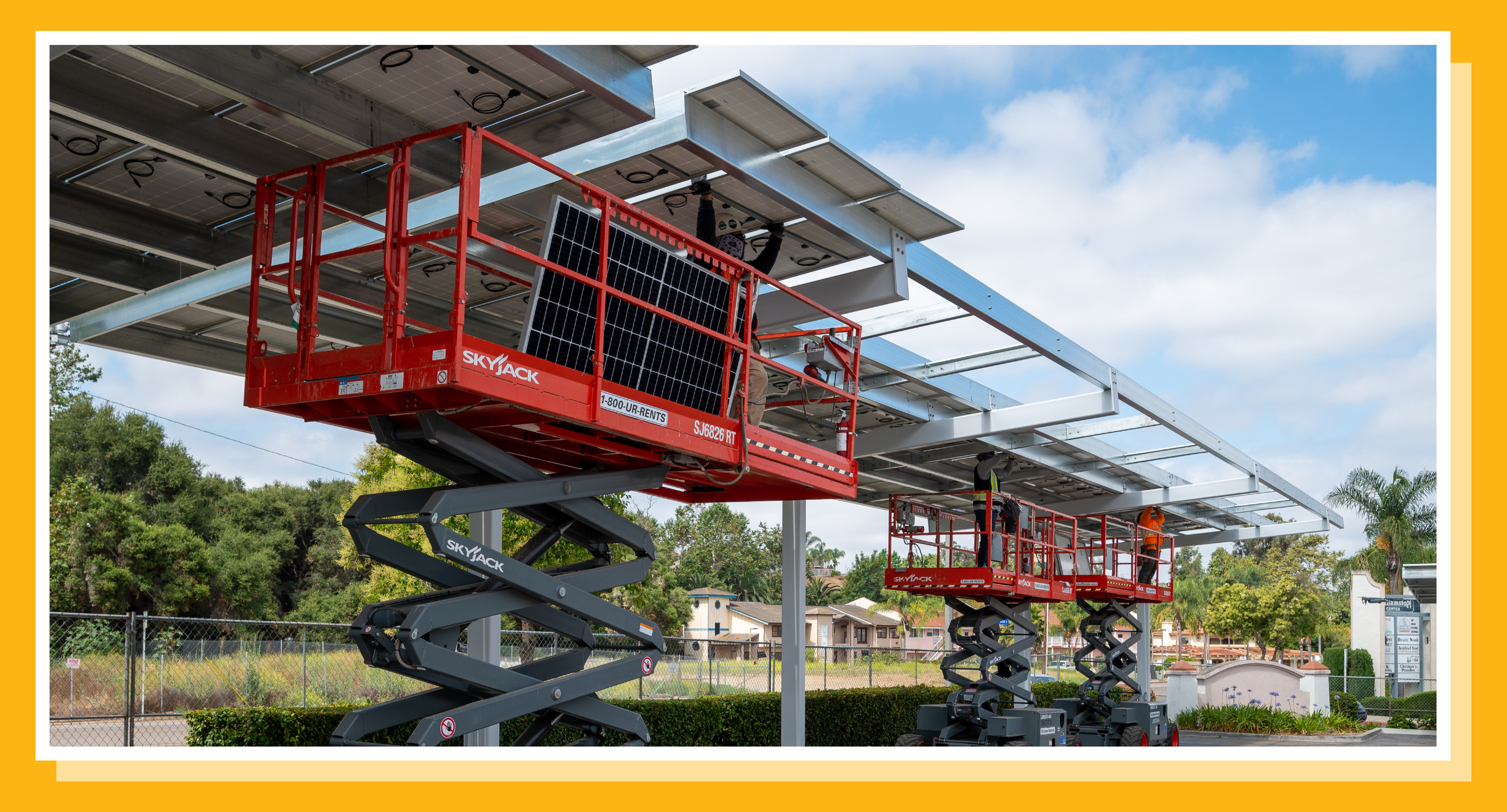 WHAT PARTS ABOUT WORKING WITH COLLECTIVESUN AND THE SUNFORALL SOLAR FUND HAVE YOU ENJOYED THE MOST?
They're great people to work with! I think I've really enjoyed their investment in us, in our success. Our Facilities Director worked with them as well, and it was a really good experience for him. Recently we received a notification about our submission of a SunForAll Solar Fund application for a new building that we purchased that we're going to start renovating in September. We're really excited that our application was accepted. So we're going to get to work with SunForAll and CollectiveSun on that building as well.
WHAT ARE SOME OF THE THINGS YOU'VE LEARNED ALONG THE WAY?
I think one thing that I've learned is that there are innovative programs out there. The SunForAll Solar Fund almost seemed too good to be true, if you know what I mean. It was really refreshing to see that there are business entities out there whose mission is to help nonprofits succeed. It is so valuable for different organizations within a community to come together, bring what they do to the table and let something great like this arise from it.
Also, in my career I've always relied on the experts, and this experience has confirmed that that is the right thing to do. When you have folks walking alongside you like the folks at CollectiveSun, who are experts in something such as solar and this innovative financing program, it just makes your life easier. Partner with good people and rely on that!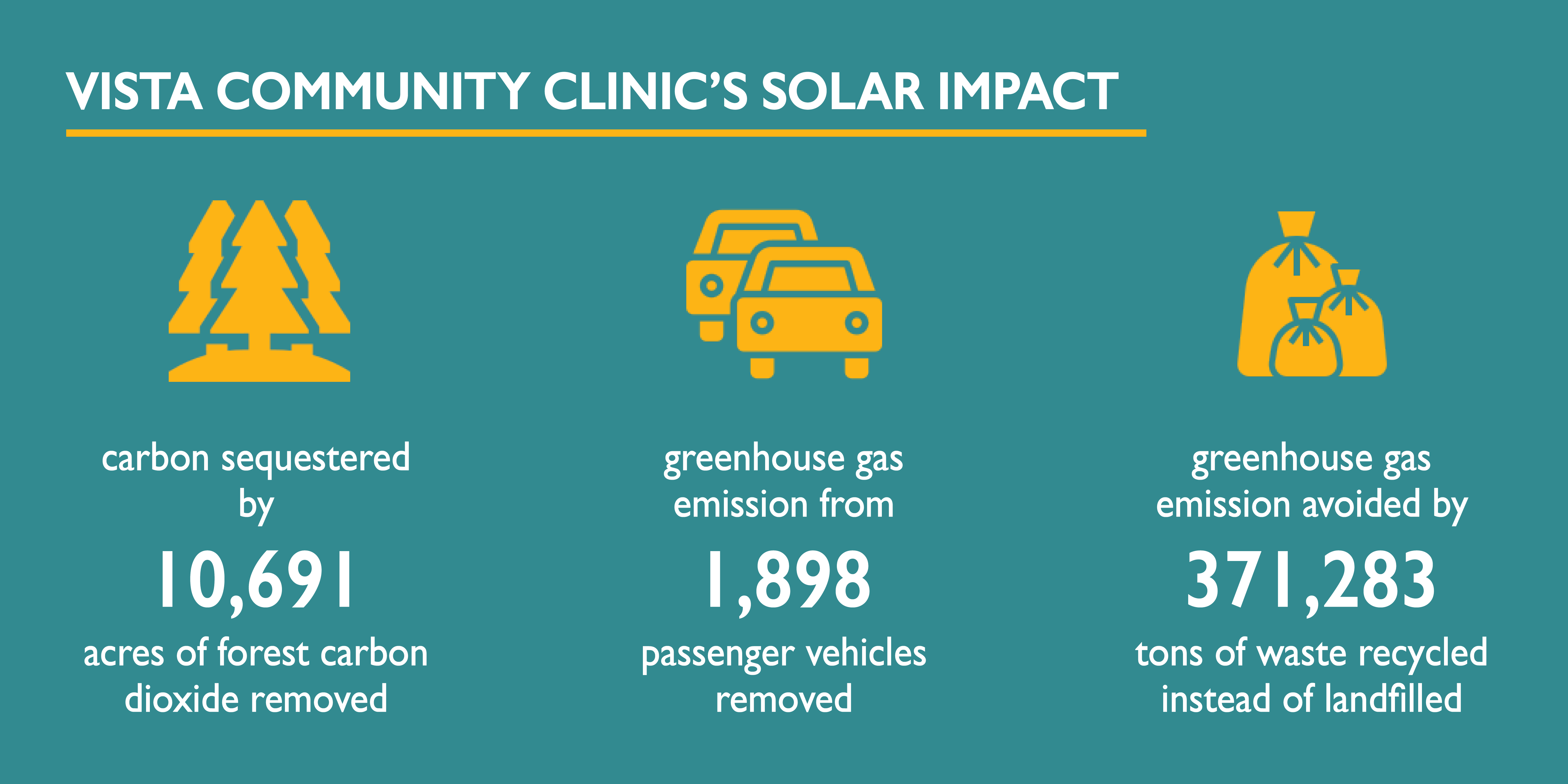 LOOKING FORWARD, WHAT ARE YOUR GOALS FOR THE VISTA COMMUNITY CLINIC, AND HOW WILL SOLAR PLAY A ROLE IN ACHIEVING THOSE GOALS?
We continue to expand. Like I said, we just bought the building up in Lake Elsinore. We have a clinic there with about 4800 square feet of rented site and outgrew that space about two years ago so we bought a building that we're going to be renovating. I'm really keen to expand our footprint in that community and expand the breadth and the number of service offerings we bring to the folks in that community. Having solar on that new building will help us because, as we set ourselves up for lower costs today and into the future, it allows us to open up programs that perhaps we wouldn't be able to open up if we had to pay more for our energy costs. That's something that makes sense.
IF SOMEONE WERE INTERESTED IN VOLUNTEERING WITH, DONATING TO, OR CONNECTING WITH THE VISTA COMMUNITY CLINIC, HOW WOULD THEY DO SO?
Our Chief Development Officer at Betsy Heightman actually wears all of those hats. She is not only involved in donor engagement but also seeks to partner with the organizations and the individuals in the community that we serve to let them know about the good work we do. She is the hub for getting involved with VCC.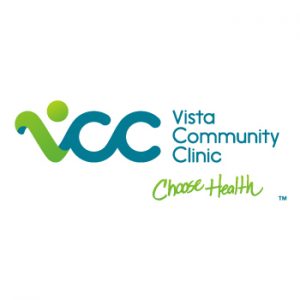 ABOUT VISTA COMMUNITY CLINIC
When VCC first opened in 1972, we set out to provide quality health care to anyone who walked through our doors.
Today, nearly 50 years later, we've helped redefine the community clinic model by pioneering innovative models of primary care delivery.
With nine state-of-the-art clinics treating more than 69,000 patients every year, VCC is a key health provider for the Southern California region.
More than that, however, we're a place where all members of our community can feel welcome, safe, and empowered to choose health.
OUR VISION
A community where every person chooses health.
OUR MISSION
To advance community health and hope by providing access to premier health services and education for those who need it most.
REDEFINING THE COMMUNITY CLINIC
At VCC, we're helping to redefine what it means to be a community clinic.
Community health centers (CHCs) empower communities that have been disproportionally impacted by social determinants of health. We provide healthcare in communities where there are few or no options for care or where systemic barriers to care have been created.
But beyond providing care to anyone who walks through our doors, we are pioneering some of the most innovative models of primary care delivery. As an integral part of the communities we serve, we're able to respond quickly and efficiently to immediate and emerging public health issues like the COVID-19 pandemic.
Learn more about Vista Community Clinic!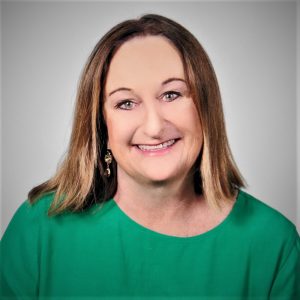 ABOUT MICHELE LAMBERT
Michele Lambert has served as the Chief Financial Officer of Vista Community Clinic (VCC) since January 2005. She oversees the finance, accounting, revenue cycle and facilities functions for VCC, a $80M ten-site FQHC based in north San Diego County which serves approximately 70,000 patients per year. Her achievements at VCC include assisting the organization to become the first Community Health Center in San Diego to implement Electronic Health Records and expanding VCC operations to communities in need in Riverside and Orange counties.
Michele holds an MBA from San Diego State University and a BS in Finance from the University of Colorado, and previously held positions in the service and manufacturing industries as CFO and Vice President Finance/Controller.
---
The 412.4 kW Vista Community Clinic solar projects were installed by San Diego-based M Bar C Construction. 
---
If you are a Nonprofit organization interested in learning more about solar, or are looking to launch a solar project with a Nonprofit organization, please contact our VP of Sales, Matt Brennan who can answer any of your questions.
Matt can be reached at [email protected] or 619-838-7363.