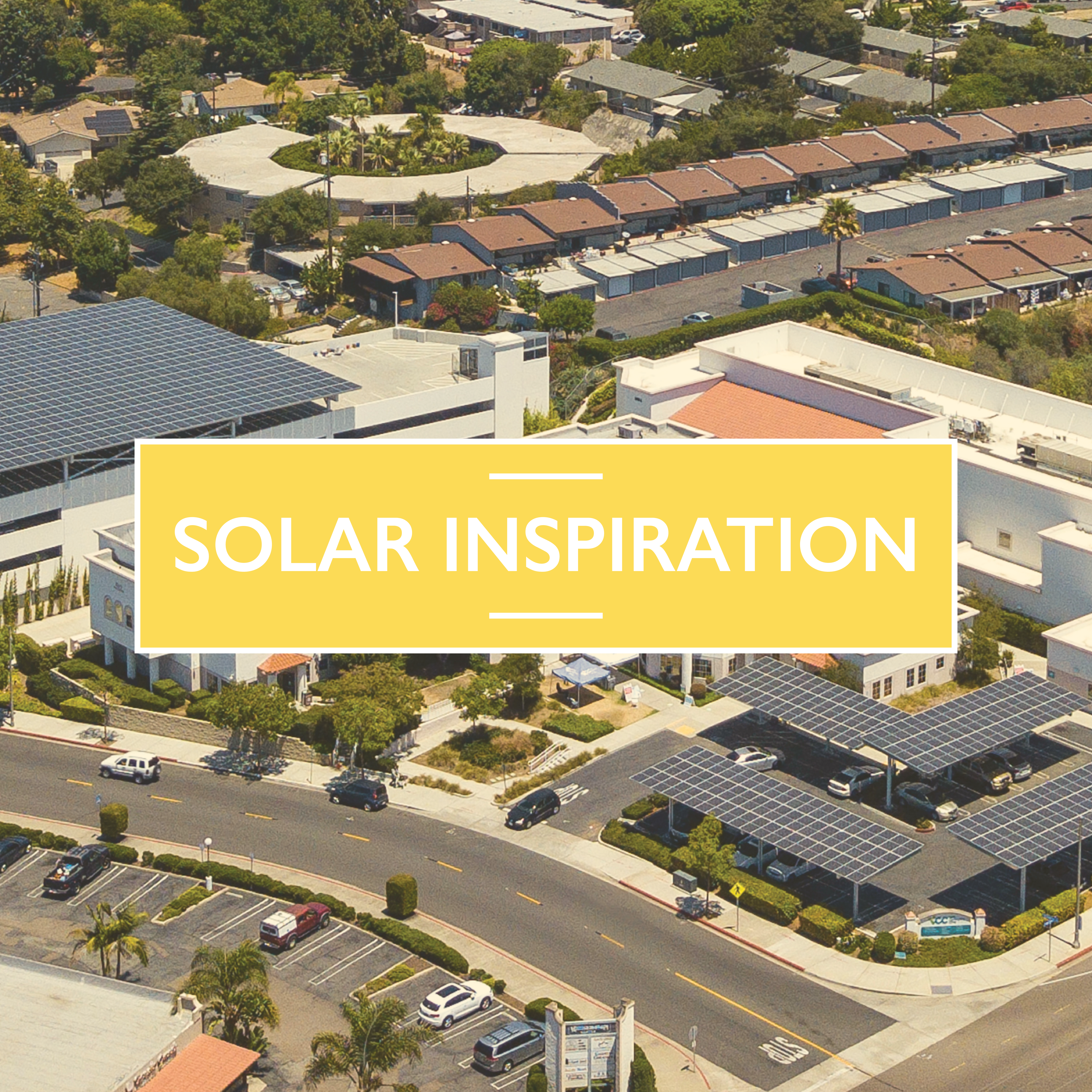 Solar Inspiration — The Healthcare Industry and the Fight Against Climate Change
---
Healthcare organizations contribute to the health and prosperity of their communities in many ways. For some, that means minimizing adverse impact on the environment, such as carbon emissions that affect the air quality, and therefore the health of their community members. At CollectiveSun we understand the importance of this kind of thinking and strive to support the healthcare industry's efforts to operate sustainably.
This year CollectiveSun worked with New York-based Association for Mental Health and Wellness, an organization that provides programs, services, and advocacy for people who face mental health challenges. Colleen Merlo, their CEO, explained that going solar not only allowed them to cut costs but also aligned with their understanding that "the environment and emotional wellness are interconnected, and if we're not looking at that then we're really narrowing the impact of our mission." 
CollectiveSun has had the opportunity to assist many different types of nonprofits and tax-exempt organizations in their journeys to go solar. Our monthly Solar Inspiration series discusses the various industries we've worked in and highlights our nonprofit partners in those industries. Our first two featured industries were museums and other art and cultural institutions and houses of worship. The third in the series spotlights the healthcare industry.
Healthcare organizations such as hospitals, mental health clinics, nursing homes, and medical campuses tend to use significant amounts of energy. Hospitals are the second most-intensive users of energy in the US, using an average of 1.5-2 times the power of the average commercial building. Their high energy requirements make them particularly vulnerable to increases in fossil fuel costs. Given that many medical facilities run vital equipment 24/7, they require energy that is reliable, efficient, and cost-effective.
More and more, these organizations are turning to solar as an effective way to reduce their electricity bill and make a positive impact on the environment.
" For many of these organizations using renewable sources of energy is directly in line with their values. It promotes improved public health, health costs and environmental conservation. "
Why the Medical Industry Goes Solar
There are a host of reasons why healthcare organizations are tapping renewable energy. The number one motivation is a desire to cut high electricity bills. The energy cost for a hospital is, on average, $675,000 per year. The industry as a whole spends billions on facilities and equipment to meet patient needs, and savings around operations is always needed. A year into its 7MW ground-mount system installation, CentraState Medical Center in New Jersey experienced a $300,000 drop in energy costs. "It's a nice saving for the hospital, in addition to being green," says VP and COO Thomas Scott. 
Going solar establishes a price for electricity that is stable, allowing a hospital or medical center to avoid the price fluctuations of coal and natural gas supply and making planning and budgeting easier. Some organizations partner with their system installers by signing a 20-year contract that locks in electricity pricing at a consistent rate.
Often, investing in solar is advantageous because of federal and state incentives. Kyle Frazier, Director of Sales at the Texas-based Freedom Solar Power states, "Almost half of the investment in a solar system is recovered by tax incentives of one kind or another…and doctors are one group of people who are always looking for tax breaks." In some states, medical organizations that go solar also receive credit for the electricity they don't use via net metering programs.
Stable sources of energy are particularly important for medical facilities. Installing a solar or a solar+storage system can be important for a hospital given that there is often critical equipment that should not be impacted by power outages.
Finally, for many of these organizations using renewable sources of energy is directly in line with their values. It promotes improved public health, health costs and environmental conservation. One executive at Boston-based Partners HealthCare, a purchaser of renewable energy, said, "Our responsibility as a healthcare provider is not just about taking care of people when they are ill…It's really looking at the health and wellness of the community as a whole and how we contribute to that.
Ways They Conserve
Often an organization starts with a variety of energy saving techniques that then expand to include a solar system. Many convert their lighting to LED bulbs with light-harvesting capabilities (lights that dim in sunlight up and brighten without it), install more efficient HVAC equipment, and automate building controls. Some employ technology that alerts administrators when equipment issues occur or calculate added energy costs if they keep running failing or outdated equipment. There is also Energy to Care, a free program that allows hospitals to measure their energy use, compare their savings with other facilities and be recognized for their efforts to conserve.
The medical research facility at Massachusetts General Hospital in Boston had already taken some of these steps to be more sustainable, such as implementing LED lighting. Installing a 1,487 solar panel solar system was the next logical step for them and is expected to save them $95,000 a year. 
A Solution for Organizations All Across the Industry
A wide variety of medical facilities have tapped the operational and environmental sustainability that comes with solar. Strictly Pediatrics Surgery Center in Austin, TX put a 2,500 panel 812.3 kW system on their roof and parking garage that meets almost 50% of their electricity needs. The system will pay for itself in seven years and is projected to save the center $2.6 million. Tucson-based Technicians for Sustainability installed solar systems at four of their locations, generating 1.1 million kW hours of clean energy. As a radiology practice, they represent one of the most energy-intensive practices in the medical field, and their system will offset 2.4 million pounds of carbon dioxide emissions annually. The Southwest Bone and Joint Institute's solar system covers 100% of their electricity needs and will save them more than $26,000 a year.
In 2018, HMO and healthcare provider Kaiser Permanente installed California's first-ever hospital microgrid at their medical center. They have solar panels at nearly 50 of their sites and more than 300 electric vehicle charging stations throughout California.
Mental health facilities are also jumping on board. Like the Association for Mental Health and Wellness, the Mohave Mental Health Clinic in Arizona installed a 140.76 kW carport solar system with an estimated 8,297,939 lbs. reduction in carbon emissions. Washington County Mental Health Services in Vermont added a 450 kW system to two locations that is projected to save them $10,000 in the first year. The array will allow the nonprofit to funnel the savings into their 800-person workforce and the various services offered to their 8,000 patients.
For institutions that lack the budget or the roof space to install their own solar panels, community solar has become a solution. Community solar allows medical facilities to save money on their electricity costs by subscribing to receive clean energy credit from large, shared solar farms in order to lower what they owe on their electricity bills. As an entity with high energy consumption and the ability to make a long-term commitment, a hospital can function as an "anchor tenant," a subscriber that ensures the lifetime of the solar farm's usage as a source of community solar for other subscribers. Two premier healthcare providers in New York, Albany Medical Center and Saratoga Hospital enrolled in several community solar farms.
CollectiveSun's Work with Medical Facilities
CollectiveSun has partnered with over a dozen nonprofits in the healthcare industry, ranging from dental and mental health organizations to nursing homes and medical clinics. The cost of making the initial investment in a solar system can be prohibitive, particularly given that sometimes a large number of panels are needed to produce enough power to meet all the energy requirements of a hospital. That is why CollectiveSun's proprietary funding model, which allows nonprofits to access a 12% or more tax-like discount on the installation cost, is such a boon for these institutions. 
Colleen Merlo at the Association for Mental Health and Wellness explained how the partnership with CollectiveSun was the factor that ultimately made their 89.32 kW solar system possible. She said, "One of the reasons why we looked at the CollectiveSun ownership model was that it gave us the ability to utilize a unique structure to fund the project. It made solar affordable and reduced the overall costs through the tax credits that were able to be applied." Colleen went on to say that when her organization considered their options around funding, CollectiveSun's model was the perfect option given that it allowed them to apply what would have been the upfront costs of the solar system to their programming instead.
As high profile institutions in their communities, hospitals and medical clinics tend to draw media attention, something that can be a win for the solar industry when these organizations choose to go solar. And by going solar, medical institutions are better able to meet their energy-intensive needs and fulfill their desire to have a positive impact on the health of the people they serve. Ultimately, the marriage between the healthcare industry and renewable energy is a perfect one.
If you are a Nonprofit organization interested in learning more about solar, or are looking to launch a solar project with a Nonprofit organization, please contact our VP of Sales, Matt Brennan who can answer any of your questions.
Matt can be reached at [email protected] or 619-838-7363.