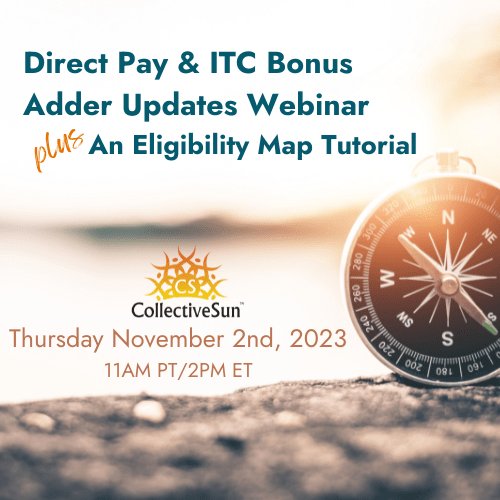 Direct Pay & the ITC Bonus Adders Update: What You Need to Know
---
Do you find Direct Pay and ITC Bonus Adders confusing?
You are not alone! CollectiveSun is here to help you decode the complexities embedded in the Inflation Reduction Act's Direct Pay and ITC bonus adder provisions benefit and ITC bonus adders.
Here is what you can look forward to learning more about:
Excessive Benefit

If you are funding all or part of your solar project

with

grants earmarked for solar, your Direct Pay benefits may be reduced to $0. Join us to understand the rules and protect your Direct Pay eligibility.

Direct Pay Eligibility Deadlines for 6/30 Year End Filers

If you have a 6/30-year end, the pre-filing registration needs to be completed prior to submitting your tax return. We'll explain timing requirements and how to solve this problem if the Direct Pay portal is not open in time.

Map Tutorial

How to use the Department of Energy's Low-Income Communities Bonus Adder. We'll provide a real-time tutorial to explain how to verify eligibility for your organization.

Interactive Q&A

Questions from our audience will be answered by our experts during our question-and-answer session at the end of the webinar.