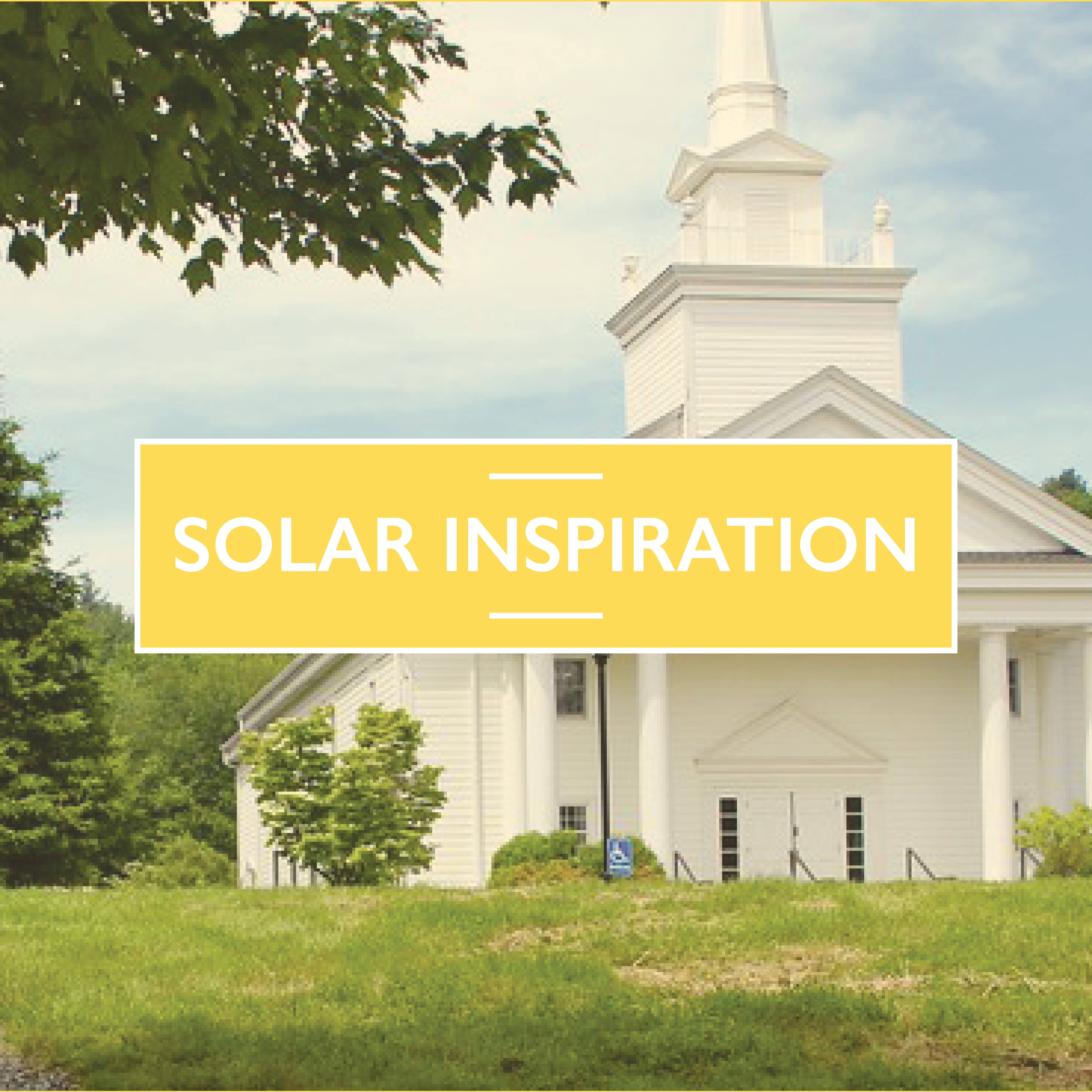 Solar Inspiration — How Going Solar Moves Houses of Worship and their Congregants To Take Action
---
Installing a PV solar system can have repercussions that move far beyond the owner of the system. This is especially true for houses of worship. Driving a solar project from start to finish for a faith-based organization requires a core group of solar promoters plus as many people in the congregation as possible. However, taking such a step often becomes a source of inspiration for other congregants, congregations, and community members.
Operating sustainably can help shape a faith community and reflect its values. As Senior Pastor Dan Senter of California's Our Savior's Lutheran Church said, "The solar panel is the most visible indicator of the passion people have about combining a spiritual connection with the natural world." He explained that when the church partnered with CollectiveSun in 2019 to install a 56.25 kW system "going solar aligned with one of the core values that emerged in the congregation." Many congregations like Our Savior's benefit from the experience of seeing their core values ripple their way through their communities.
As part of our mission to impact as many nonprofits as possible, CollectiveSun has been able to work with organizations across a host of industries as they go solar. The Solar Inspiration series highlights industries we've participated in, with an emphasis on our work with organizations in those industries. Our first three featured industries were museums and other art and cultural institutions, houses of worship, and healthcare institutions. In this fourth article in the series, we circle back to houses of worship to take a closer look at the impact of solar on the congregants and their communities.
"Operating sustainably is a great way for houses of worship to lower operating expenses, redirect the savings into programming, and align operations with their core values. It also serves as a means to motivate people to do the same." 
Inspiring Congregations and Beyond
Going solar at a house of faith tends to move members of the congregation to pursue it as well. Twenty-year congregant at Congregation Shaarei Tefillah in Newton Centre, Massachusetts Michael Rubin spoke of the impact of the synagogue's 70.18 kW solar system undertaken with CollectiveSun that is projected to save them $23,000 annually. Michael stated that many congregants are now "looking to start adopting solar for their own residences," adding that many people have approached him "to see what we learned in order to leverage that information for their own homes."
Solar has a powerful effect on the greater community as well. The First Presbyterian Church in Indiana installed 48 PV solar panels on their roof. "It's a start and it makes solar power visible in a lot of different communities and does inspire members to get solar and other churches in the neighborhood to think about the benefits of doing this," said Trisha Tull, the church's green team leader. The Program Director at Flagstaff Federated Community Church, Rachel Davis, explained that part of what drove the church to go solar was the impact it would have on the surrounding communities. She said, "we've got some partner organizations in town that have converted to solar power, and we've met with congregations in Phoenix who are desperately seeking to get away from massive electric bills." 
Pastor Susan Dorward at Brookdale Reformed Church in New Jersey explained that their decision to go solar pushed other congregations in the area to do the same and even drew more people to the church: "they thought we were so progressive in our thinking that they wanted to be a part of something that cares about the earth." One member of the church installed panels on his home as a result of the church's decision and chose to donate some of the saved money to the church's community meal. Additionally, ten members of a nearby retirement community in homes outfitted with expensive electric heat switched to solar to bring down their monthly bills.
Some take things even further. Mary Jean Baker of Collegiate United Methodist Church in Maryland maintains a community "Care and Share" document that provides information about the nuts and bolts of how to function sustainably and lists equipment, updates, and programs currently tried by Annapolis area congregations. For Mary Jean, it is part of a widespread effort spearheaded by her that "offers a model for creation care." After her synagogue, Temple Sinai in Maryland went solar in tandem with several other congregations, Robyn Miller-Tarnoff and other congregants created a solar co-op to spread solar to other congregation members, houses of faith, and the greater Bethesda area. More than 50 homes have gone solar with the group.
Sometimes the impact goes the other way, with congregants' decisions to go solar spurring on the actions of their houses of worship. A congregant at Grinnell United Methodist Church in Iowa explained that when a church committee first suggested the idea of solar the project didn't take off. But she stated, "now we have members with personal experiences with solar, and we see solar throughout our larger community," something that helped propel their solar installation forward. More often than not, it is a single congregant who goes solar themselves that begins the process for a house of faith.
Fostering Interfaith Sustainability
Sustainability also brings people together across different faiths. St. Peter's Episcopal Church in Weston, Massachusetts partnered with CollectiveSun to install their 30kW rooftop solar system. The church makes renewable energy at a discounted price available to the Yusuf Mosque in nearby Brighton by selling their net metering credits. St. Peter's is planning to create a joint gathering of the church and Yusuf Mosque to celebrate the initiation of the completed system. 
Some houses of worship are tapping into the increasingly popular format of the community solar garden to assist their greater communities, and help other congregations. In 2017, Shiloh Temple in Minneapolis installed a community solar 630-panel array which ended up supplying green energy to the nearby Masjid An-Nur Mosque and 29 local households. 
In the Washington DC area, community solar projects are a way for houses of worship to act as stewards for the greater community around environmental and economic sustainability. Four "solar gardens" have been built by the nonprofit Groundswell in partnership with local faith groups: St. Luke Baptist Church, Dupont Park Seventh-Day Adventist Church and Our Lady of Mt. Carmel, with funding from the D.C. Department of Energy and Environment. The gardens help provide discounted electrical energy to lower-income residents in the area.
Solar Funding that Promotes Community and Sustainability
Even funding a system can bring congregants together. When the Flagstaff Federated Community Church installed a 132-panel system congregants, businesses and even other congregations sponsored panels for $250 each, contributing approximately $40,000 for the down payment on the installation. Sponsors were able to write messages on panel tags to be read in the future. In Washington DC and Maryland, virtual metering laws make it possible for people to get credit on their home energy meters for solar energy generated by solar panels in another location, something that has helped encourage congregants in those states to own panels on solar systems installed on houses of faith.
Operating sustainably is a great way for houses of worship to lower operating expenses, redirect the savings into programming, and align operations with their core values. It also serves as a means to motivate people to do the same. Assisting others and making change is often an integral part of the mission of a faith-based organization. Michelle Moore, CEO of Groundswell states, "people go to churches when they need help." With many houses of worship that go solar, people get just that – plus a healthy dose of solar inspiration.
If you are a Nonprofit organization interested in learning more about solar, or are looking to launch a solar project with a Nonprofit organization, please contact our VP of Sales, Matt Brennan who can answer any of your questions.
Matt can be reached at [email protected] or 619-838-7363.